Uhuru and William Ruto were fixed by the same people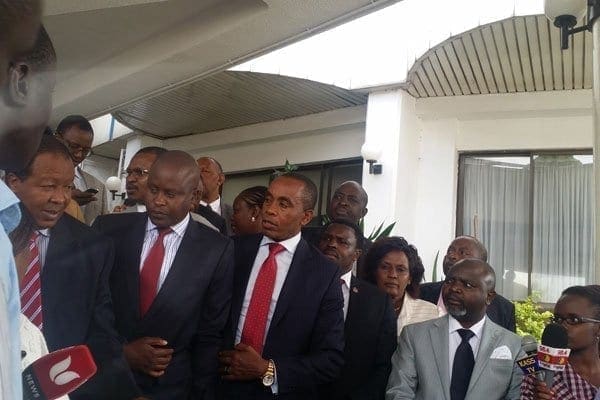 A group of MPs in the ruling Jubilee coalition say both President Uhuru Kenyatta and his deputy William Ruto were fixed by the same people in their cases at the International Criminal Court.
About 20 lawmakers, calling themselves the Central Kenya Parliamentary Caucus, claim "scavengers", who did not want the two leaders elected, were responsible for fixing them.
"We are asking anybody, may it be from ODM, may it be from the former PNU (Party of National Unity), if you have any information on who fixed who, we are encouraging you to come forward and the truth shall set us free," Dagoretti South MP David Waweru told reporters at Lillian Towers in Nairobi.
"But to the scavengers who are trying to come in between our coalition, we want to tell them we will be together and they will not manage to destroy our alliance.
"We have heard those who say they want to offer help. We want to welcome them, but they should know that Jubilee is united under the captain Uhuru Muigai Kenyatta."
However, President Kenyatta's case was dropped for lack of sufficient evidence to take it to trial, leaving Ruto to fight his case.
The two leaders were initially on opposing sides during the 2007 elections but moved into one coalition ahead of the 2013 General Election, when they were elected.
On Wednesday, the MPs from central Kenya said the two were taken to the court by people who never wanted them to stand in the first place.
"Those who fixed Ruto, we want to state here categorically that they are the same people who fixed our President Uhuru Muigai Kenyatta.
"They are the same people who did not, and they tried all means possible, to stop him from becoming the president of the republic of Kenya," Senate Majority Leader Kindiki Kithure claimed. We know the same people who fixed Ruto are the same people who were against this Jubilee."
Before the 2013 elections, several activists had lodged a case to challenge their suitability to contest owing to the cases that faced them at the ICC. The High Court
-nation.co.ke
Uhuru and William Ruto were fixed by the same people