Ruto's party agrees to dissolve in December for JP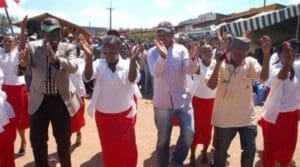 NAIROBI, Kenya, Nov 5 – Deputy President William Ruto's United Republican Party (URP) has agreed to dissolve and join the Jubilee Party.
National Secretary General Fred Muteti says the resolution was reached at the party's National Executive Committee meeting held on Thursday.
"The party will hold its NDC on December 18 to dissolve the party," Muteti said after a three hour closed-door meeting at the URP headquarters in Nairobi.
URP's decision comes weeks after parties in the Jubilee Coalition agreed to abandon the touted Jubilee Alliance Party (JAP) and agreed to form the Jubilee Party.
Speaking after a meeting of the Jubilee Alliance Party Steering Committee Co-Chairman Noah Wekesa said they had agreed on the formation of nine committees which were tasked with overseeing the merger of the affiliate parties into a single political entity.
"All the parties that are on the same path as us, are welcome, we have our door open. We are looking forward to forming one party in December. All I can say is that, all the people who have not made up their minds our door is open," Wekesa said last month.
JAP has often been marketed as President Uhuru Kenyatta's re-election vehicle but several parties including Meru County Senator Kiraitu Murungi's Alliance Party of Kenya have been unwilling to dissolve claiming they were not consulted.
But following the meeting, the APK Party leader stated that his team would also hold talks with MPs, County Assembly members and grassroots officials before the parties are wound up.
Kiraitu who is also the Steering Committee co-chair said there would be various sensitization forums to be held in counties on the matter.
"JAP is among the members of the political parties involved in this merger. The name jubilee is common to all of us because we are members of the Jubilee Coalition so come December we'll have a Jubilee Party and JAP is going to be part of that Jubilee Party, so we are not abandoning anything and both the President and Deputy President are in support of this process," he said.
The Political Parties Act 2011 bars one from being a member of more than one political party at the same time.
However, Members of Parliament and Members of the County Assembly elected on the coalition's ticket were insulated by Section 22 of the Act and would retain their slots for the remainder of the term even if the constituent parties are wound up by December as planned.
-capitalfm.co.ke