Raila faces arrest if he fails to honour EACC summonses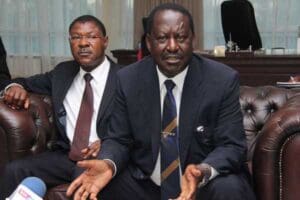 Cord leader Raila Odinga was Thursday summoned to appear before the Ethics and Anti-Corruption Commission on Monday over claims he has made on the use of Eurobond funds.
EACC officials have warned that Mr Odinga would be prosecuted if he fails to honour the new summonses.
But Mr Odinga has declined to appear before the commission and told the officers there is no threat that he has not faced in his life.
The commission, in a statement signed by Chief Executive Halakhe Waqo, spelt out its powers to summon witnesses and suspects.
The section reads: "The director and an investigator shall have the powers, privileges and immunities of a police officer in addition to any other powers the director or investigator has under this part."
The investigating officer, Chief Inspector Fredrick Mwangi, the officer commanding EACC headquarters police station signed the summon.
It read in part: "I have reason to believe that you, Raila Amolo Odinga have information that may assist me in my investigations.
LIABLE TO PROSECUTION
"In exercise of the powers conferred to me under Section 52 of the National Police Service Act, I require you to attend before me at the EACC headquarters police station on December 14, without fail for further directions.
"Be warned that failure to comply with the above requisition will render you liable to prosecution."
Mr Odinga's team complained that the letter amounted to threats.
Treasury Cabinet secretary Henry Rotich, PS Kamau Thugge are among senior government officials who have appeared before the commission following the directive by the DPP over Mr Odinga's claims regarding use of Eurobond cash to be investigated.
Detectives attached to the commission went to Mr Odinga's offices at Capitol Hill Centre in Nairobi around 3pm to serve the opposition leader with the order.
Earlier in the morning, Mr Odinga had declined a similar order to appear before the commission with his spokesman, Dennis Onyango, arguing that the former PM had been out of the city and had only learnt of the summons through the media.
"Mr Odinga wishes to assure Kenyans that once he receives the letter, he will make a decision that will be in the best interest of the public and the Kenyan nation that have been swindled of billions and that ensures that public officers and institutions are held to account in line with the provisions of the integrity provisions of the Constitution.
"Hon Raila, however, won't be party to any cover up or any prolonged game of musical chairs that only gives looters time to hide their loot and public officers to cook the books," he said.
Mr Odinga had declined a similar invitation from the Treasury after he had raised questions about expenditure amounting to Sh140 billion.
Thursday, after waiting for Mr Odinga in vain, EACC detectives went to his office in the afternoon.
Drama unfolded when the Cord leader, accompanied by Senators James Orengo and Moses Wetang'ula together with lawyer Paul Mwangi, declined to receive and acknowledge the summonses.
One of the officers left Mr Odinga's office and made a telephone call. Soon afterwards all the four officers left but stayed within the vicinity of Capitol Hill Centre.
Police reinforcements were brought in, with the officers' Landcruiser parked outside the gate. There were also two armed Administration Police officers in the group.
Shortly afterwards Machakos Senator Johnson Muthama drove in and blocked the officers' car with his own Landcruiser.
Mr Odinga asked the EACC detectives to speak on camera after he invited journalists in his office.
One of the detectives, who appeared to lead the team of four, said "no comment," and Mr Odinga responded by saying they were wasting time.
TWO LETTERS
"They came with two letters from the Commission which they have served me, demanding that I appear before the commission to share with them information which I have," Mr Odinga said.
He took issue with the tone used in the letters, describing it as "contemptuous."
"I take a lot of exception that an officer of the commission, writing such a letter to me, reminding of consequences if I do not present myself at the so called Integrity House (Centre). I've said I will not go. I will not be compelled, I will not be intimidated and blackmailed by an officer of EACC."
The former prime minister accused EACC of not being serious about investigations, referring to the Chicken Gate scandal.
"It has been pending for months whereas the counterparts (abroad) who were involved in that scandal are now in jail. They were prosecuted. The Seriopus Fraud Office (of the UK) came to this country, investigated, discovered bank accounts through which bribes were paid to officers of then Interim Independent Electoral Commission and Examinations Board. Those here are scot free  and we are being told (by EACC) they have not seen evidence. I have no respect for EACC," Mr Odinga said.
He added that the officers sent to him were also too junior.
He said: "My lawyer has advised me that whistle blowers are protected. If the government wants anything from me they must be civil. EACC is supposed to be independent. That's why it should be headed by commissioners but does not have them. It is like a chicken without a head."
All the while, the EACC officers sat quietly in the office, looking timid and refused to answer questions from journalists.
Mr Odinga then asked Mr Mwangi, his lawyer, to speak.
Mr Mwangi said: "They decided to serve by way of legal notice a demand that Hon Raila Odinga goes to Integrity Centre. This notice has been issued under section 52 of National Police Service Act. That section is used when you have a person you think might end up being a witness."
Siaya Senator James Orengo, who also accompanied Mr Odinga, said statements are recorded from witnesses at a location they feel comfortable.
"Witnesses should give evidence in an atmosphere they feel comfortable and not in circumstances they feel they are being compelled. Even in very serious cases, statements are not recorded in police stations, for this matter at the commission."
He also took issue with the tone used in the summonses, saying they were crafted in a language that suggests that he would be denied dignity befitting "a person of his status." "Witnesses should give evidence in an atmosphere they feel comfortable and not in circumstances they feel they are being compelled. Even in very serious cases, statements are not recorded in police stations, for this matter at the commission."
-nation.co.ke