Why Kenyans are confident in First Lady compared to other leaders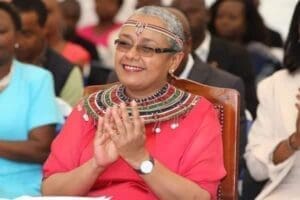 First Lady Margaret Kenyatta seems to have won the hearts of Kenyans with the Beyond Zero Campaign that has literary touched the lives of all citizens.
In a survey released by Ipsos, Kenyans, political affiliations notwithstanding, expressed confidence in the First Lady, compared to their elected leaders and political parties.
The survey showed that 47 percent of the 2, 058 respondents, who were randomly sampled; said they had a lot of confidence in the First Lady, compared to 24 per cent that felt the same for Opposition leader Raila Odinga .
The study also trailed other public figures, with Moses Wetang'ula scoring 17 per cent, Wiper Democratic leader Kalonzo Musyoka 16 per cent, Majority Leader Adan Duale 14 per cent and National Assembly Speaker Justin Muturi 12 per cent.
The First Lady's rating was far beyond the Opposition in general at 17 per cent and the National Assembly at 10 per cent.
"Among Opposition and governing leaders outside of the Executive, only Raila attracts even one-quarter of those who have 'a lot of confidence' in him, though First Lady Margaret Kenyatta's confidence rating is nearly twice as high," stated the survey.
Majority of Kenyans even had more confidence in the First Lady than their respective MPs (47 vs 20 per cent). Only nine per cent of Kenyans had 'no confidence at all' in the First Lady while 34 per cent expressed the same for Raila and Coalition for Reforms and Democracy co-principal Moses Wetang'ula.And 36 per cent of Kenyans had no confidence in Kalonzo.
The agility, humility and the soft heart associated with Ms Kenyatta has undoubtedly made her a likeable personality among many Kenyans.
Her campaign appears well targeted (mothers and their children who happen to be the most vulnerable population in the country) in making sure every Kenyan has access to quality medical care from birth to maturity.
The campaign too has incorporated advocacy programmes in HIV/Aids as well as campaigns against Female Genital Mutilation, which is still a scourge in the society.
While politicians avoid visiting interiorplaces in their own constituencies, Ms Kenyatta readily penetrates and opens mobile clinics in areas where the citizens are really in need but their legislator has not been able to deliver for some reason. So far, over 40,000 Kenyans across 20 counties have benefited from the Beyond Zero programme since January 2014.
-standardmedia.co.ke