CORD rebels in Coast declare Jubilee MP Gideon Mung'aro their spokesman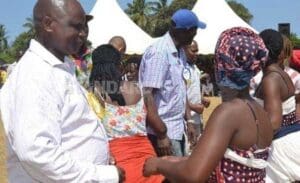 Eight MPs yesterday declared Kilifi North MP Gideon Mungaro Coast's political leader.
Speaking when they launched campaigns for Jubilee's candidate in Malindi by election Philip Charo, the leaders said the Mr Mungaro was fit to be the region's spokesman.
MPs Peter Shehe (Ganze), Mustaffa Idd (Kilifi South), Harrison Kombe (Magarini), Zainab Chidzuga, Mwashetani Khatib (Lunga Lunga), Shariff Athman (Lamu East) and Julius Ndegwa (Lamu West) made the declaration after a funds drive in aid of women groups at Kijiwetanga Primary School
Controversial Mombasa businessman Suleiman Shahbal predicted that Jubilee will win the Malindi by election.
"Jubilee will win the March 7th Malindi constituency by election and the 2017 General Election and are people should now ditch ODM and join the government party," said Shahbal.
Mungaro accused the Kilifi county government of abetting corruption claiming that there was nothing to show despite receiving billions of shillings from the national government every year. He asked local residents to join Jubilee.
"Though Kilifi county is ranked position 4 for receiving a lot of money amounting to about Sh24 billion in the past three financial years from the national government, most of the money has been mismanaged and the county administrators have failed to account for the money," he claimed.
Shehe said the MPs endorsed Mung'aro as their spokesman after consensus.
"As coast leaders who have talked and resolved that we get a spokesman and the political king pin for the region and we jointly agreed that
Mp Mungaro be our leader," said Shehe who denounced ODM for putting billboards in Malindi town declaring it an ODM zone. He claimed the billboards show disrespect for President Uhuru Kenyatta.
"ODM has to respect the head of this nation Mr Kenyatta and avoid referring to the ODM leader Mr Odinga as his excellence as the country has only one president who is Mr Kenyata and his deputy William Ruto," said Mp Shehe.
Rapid development
Mungaro and Mwashetani  asked Malindi constituency voters to elect Charo to achieve rapid development. They asked voters not to consider parties in the March 7 by election. ''We have about one year and a half , so for Malindi people to get development within that period, they need to elect an Mp who was linked to the government who is MR. Philip Charo," said Mungaro.
Chidzuga said time has come when coast people need to change their style of politics and ensure they are directly linked to the government of the day and achieve development.
She said remaining in ODM was like a waste of time as that party has failed to make a government and has not capacity to bring development to the people.
"Time has come that coast people need to be told the truth and make a political stand change and ensure they work with the government of the day as the only way to get development,"said Chidzuga.
Charo urged voters to support Jubilee at the March 7 polls to accelerate development in the Malindi constituency.
-standardmedia.co.ke