ITUMBI MAKES PLEDGE TOWARDS 'UNDER THE TREE CLASS' AND TWITTER GOES HAM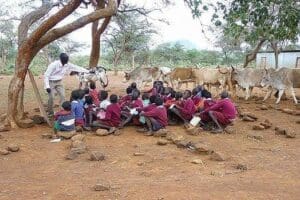 Statehouse man Dennis Itumbi on Monday pledged desks, bags of cement and a lorry of building stones to a primary school whose plight was recently featured in the media.
Mr Itumbi, the Director of Digital, Innovations and Diaspora Communication in the Office of the President, said in a tweet that his donation was just a way of doing something as a citizen.
"To Nachurur Primary School I pledge 10 desks as citizen number 22219988 #EducationCrisisInBaringo," said Itumbi's first tweet on the matter that had been trending for days.
The tweet was met by mixed reactions from users as some thanked him, while others asked if that was all he could do as a person in government.
@skkomen tweeted, "@OleItumbi as a Baringo residents, Citizen number 26151137 who is championing for good governance, I would wish to thank you for the gesture."
@abdulmote wondered, "Is that the best you can do Bwana Itumbi and announce in the social media? Is that it? "ten desks"!"
Mr Itumbi replied to Abdul's concern, stating that he had pledged what he had.
@Obar_Mark tweeted, "@OleItumbi ten desks niachie; you are far much more than that…"
To that Mr Itumbi stated that Obar could as well add more desks to help the school.
Minutes later Mr Itumbi added another donation tweeting, "I will also donate 10 bags of cement& a Lorry of stones/bricks #EducationCrisisInBaringo as citizen number 22219988."
A myriad of reactions as well followed after the second donation, with users stating that the government should have taken full responsibility.
@ggibson_ tweeted, "Smh so the government doesn't have money to carry out its projects, HATUCHANGI!!!"
@soitas added, "We pay taxes and CDF exists, why should Kenyans give bags of cement again? @OleItumbi government has failed."
The plight of Nachurur Primary School was highlighted on social media and a follow up was done by mainstream media where pupils were found learning under a tree.
The teachers said the few classrooms in the school are reserved for upper primary classes.
During the coverage by Citizen TV, pupils could be seen getting distracted during a lesson as cows moved around the school prompting the teacher to call for their attention.
-nairobinews.nation.co.ke