Kidero chief of staff face charges for attempt to bribe Sonko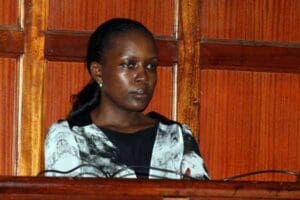 A magistrate has given Nairobi County Chief of Staff George Wainaina seven days to present himself in court to answer corruption charges over his alleged attempt to bribe Senator Mike Sonko.
Mr Wainaina was supposed to answer corruption charges on Friday, but he was said to have been hospitalised.
A document tabled in court stated that Mr Wainaina, 54, "has been admitted to Karen Hospital with acute muscle and joint pains associated with generalised body weakness".
The document further states that he is undergoing extensive laboratory and imaging tests to ascertain the cause of his illness.
Mr Wainaina was to be charged alongside his secretary Roselyn Oluoch, who was in court.
Ms Aluoch denied two charges relating to the alleged offences.
The prosecution said the two attempted to bribe Mr Sonko with Sh1 million as inducement for him not to pursue a land case.
Ms Oluoch denied that on January 6 at the county chief of staff's office at City Hall, Nairobi, while employed as secretary, conspired to commit an offence of corruption by offering Sh1 million to Mr Sonko.
A second count stated that the same day at 3.45 pm, she was found in possession of Sh500,000, which was part of the bribe.
The prosecution said she had reason to believe that the cash had been acquired as a result of corrupt conduct.
Ms Oluoch was released on cash bail of Sh500,000.
The case will be mentioned on January 15.
Principal Magistrate Felix Kombo warned that a warrant for Mr Wainaina's arrest will be issued if he fails to appear on the set date.
Mr Wainaina is represented by lawyers Cliff Ombeta and George Kithi.
-nation.co.ke