Man who worked in Office of the President now lives on streets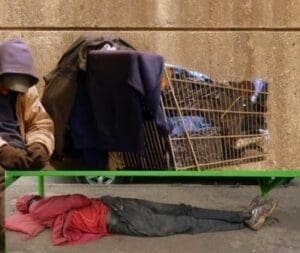 He once worked in the prestigious Office of the President during the Nyayo era. But today, the elderly man from Kericho County lives on Nairobi streets, his 'home' for more than a decade.
'Jubilee', as the tall, but now seemingly frail man is nicknamed, operates between Aga Khan Walk and Mama Ngina Street where he joins several open-air barazas where politics is discussed the whole day. In the evening he troops to City Market, which is located near a 24-hour supermarket. He loves areas in the vicinity of round-the-clock supermarkets.
Jubilee' has no home in Nairobi. We are here not talking about street boys (and not a few street men).
Undaunted, 'Jubilee' carries a toothbrush, toothpaste, shoe brush and polish in his pockets for daily grooming.
Multiple sources told The Nairoibian that he avoided returning to his village in Kericho due to that small matter of being  questioned about where he took all his money after working in the Office of the President.
But life was not always like this.
'Jubilee' married a woman from Central Kenya as his second wife. John Kibet who knows 'Jubilee' told The Nairobian that he "has never gone home for more than 10 years and that he somehow forgot his family upcountry."
But 'Jubilee' was left between Kiambu and a hard place and the two parted ways unceremoniously in early 2000 after he was thrown out from the house he had allegedly built for the woman near her rural home.
'Jubilee' lost his job and "his attempt to follow up money and other properties he bought with the woman has left him totally frustrated. He reportedly attempted to approach the woman one time and she lifted her dress and told him to get the money from her genitalia," said Kibet.
Another source told The Nairobian his second wife sold the house and left the country. The two had five grown-up children – two boys and three girls. They all live abroad".
'Jubilee' is one of the many people who have no fixed abodes in Nairobi. To survive, he depends on the many friends and those he assisted to study abroad and who shore up his finances whenever they drop by.
Approached by The Nairobian, 'Jubilee' denied he's needy. "I am not poor. We usually discuss politics in big hotels in this town, I even know some senior people in the government and media," he said without shading much light on his life on the streets.
But Jubilee's case is not an isolated one. Take Joseph Wafula, for instance. He is among the many men who sleep in line outside shops along the Ambassadeur bus stop in Nairobi. These men huddle together for warmth on the pavement.
Their shoes have seen better days, but they're not dusty. So are their trousers. Come morning and they will up and bright and ready to report to work, clean, smart and punctual.
Wafula has been living on the streets for the past four months. He is a cleaner and messenger at a law firm along Loita Street. Wafula earns Sh5,800 a month. He has four children back in the village who live with their mother.
"I lived in Mathare with my wife and children in a single room. She had a stall where she sold foodstuff and the income catered for food and rent, while I paid school fees. After she died early last year, things changed for the worse."
He says he couldn't support his children on his salary, so he married a new wife and left her in the village with his children. Wafula says he sends home Sh3,000 every month, saves Sh1,000 and since he is living on the streets, his only expense is food.
"I couldn't afford rent and the landlord kicked me out. I thank God my family didn't have to go through the humiliation".
Wafula says that after he was kicked out, he had nowhere to go and spent the first night seated on the bench next to The Hilton hotel. After two nights, one of the security guards advised him to go sleep with 'others' at Ambassadeur, where it was safer.
"I have four shirts and two trousers. When I wake up, I go to the county bathrooms then head to work. I am lucky because at the office, we have tea and bread two times a day, so the only thing I budget for is food."
Wafula adds that he goes to the office early to wash his shirts, which he hangs out to dry at the mezzanine floor. "There is a restaurant that washes table clothes and napkins. There is space on the mezzanine floor where I dry my shirt. By 9am, the shirt would be dry and I fold and place it in the bag I walk with."
Wafula adds that he keeps a toothbrush and Vaseline in a small bag. He is not very comfortable with his living arrangements, but says he has fewer options since the Sh1,800 he is left with can't pay rent or daily fare to and from work.
"If I had a house in the slums, it would cost me Sh800. Transport would be Sh60 per day. But if I even walked to work every day, after rent, what is left can't feed me."
His oldest daughter cleared Class Eight and is yet to join high school, while his youngest son, whom he got with his second wife, is less than a year old.
"At times, there are as many as 15 men who work in offices that sleep at our 'place'. Some come for a few weeks, while others have been at Ambassadeur longer," reveals Wafula. "Actually, there are four who I hear have been there for almost one year. All of us are employed, only that we can't afford housing and food at the same time."
Ali, a physically challenged vendor at the Ambassadeur bus stop says he has been selling sweets and scratch cards at night, and he can afford a small room in Huruma.
"These office people have been here for almost one year. Everyday, a new one comes but is gone after a few weeks. Those three have been sleeping here for the longest period, almost one year," he says pointing at three men sleeping.
Neither the police nor county askaris harass the men sleeping on the streets. Even the watchmen guarding businesses at Ambassadeur don't bother with them. "Maisha ni magumu. Ukiona mwanaume ametandika carton chini analala, jua ameshindwa (It's a tough life in the city.
When a grown man is forced to sleep on cartons in the cold night on the streets, just know that he has hit rock bottom and there's nothing much he can do about it)," says one guard. He adds that he never harasses them for sleeping at his work place.
In fact, he confesses that they make his work easy since they line up and sleep in front of the shop he is supposed to be guarding. "What are the chances of thieves breaking in?" he poses.
Wafula sees no reprieve in the near future. "I depend on my job to feed my family. My father sold the family land a long time ago. I can't go back home and sit there doing nothing."
He says his schedule at the office doesn't give him time to search for another job, since he is on call anytime of the day. "I open the offices and lock them after everybody is gone. Nobody knows I live on the streets and I wouldn't want anybody to know," he adds.
-sde.co.ke