PHOTOS/VIDEO: 1st Floating Marina in East Africa Unveiled in Mombasa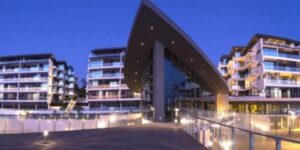 President Uhuru Kenyatta on Tuesday officially opened the 1stFloating Pantoon Marina in East Africa in an afternoon of pompous celebration along Nyali Beach Mombasa.
He was taken on a tour of the luxurious property which sits on a 4-acre piece of land facing Old Town and treated to an oceanic view of the modern serviced superyatcht marina, with several water sporting activities.
The facility was started by two Kenyan brothers, Alnoor and Amyn Kanji who wanted to break into the untapped luxury yatch business which is only seen in South Africa and Egypt.
"We have brought a small piece of Monte Carlo to Kenya," said Alnoor during the launch.
The Sh50 Billion property is said to offer luxurious apartment living, hotel services, restaurant, spa, gym, serviced marina, water-sport centre, boardwalk with retail outlets and underground car parking. The premises would be managed by Pinewood Village Beach Resort.
Here is a video of the property:
-kenyans.co.ke