IEBC clears ODM's William Mtengo despite forged documents claim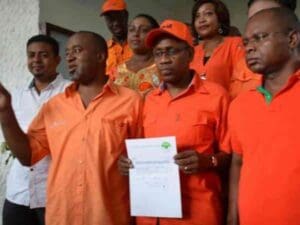 The IEBC has cleared ODM's Willy Baraka Mtengo to vie for Malindi MP amid reports he forged his academic papers to secure employment.
Presiding officer Stephen Karani said: "We are treating the issue as a mere rumour. If he has issues of integrity he should be probed by the EACC and the Education ministry."
The Independent Electoral and Boundaries Commission is expected to verify candidates' documents before clearing them.
Speaking in Malindi town on Monday, Karani said Labour Party's Attas Shariff was also cleared to contest for the seat in the by-election set for March 7.
Documents seen by The Star indicate Mtengo forged documents for a job at the Kenya Ports Authority.
They show he submitted forged Kenya Certificate of Secondary Education and first degree certificates to KPA during employment and subsequent promotions.
A special committee formed to probe Mtengo found there were no records of him at Kenyatta High School in Mwatate. A roster at Baptist High School in Mombasa shows he attended the school up to form two but dropped out.
Mtengo dismissed reports he forged his certificates as "cheap propaganda and gossip". He told the Star on Friday that those peddling the claims are malicious and "have sensed defeat".
-the-star.co.ke