Kenya to send more students to Israel, says Uhuru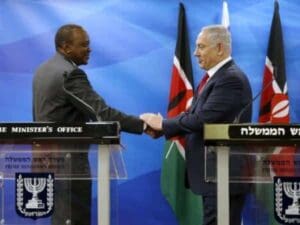 Kenya will send more students to learn dryland farming technologies and automated agriculture in Israel, President Uhuru Kenyatta has said.
Uhuru said the experience of Israelis in harnessing harsh and dry lands to produce crops will be used to increase food production in Kenya.
He said since 70 per cent of Kenya's land was arid, it was prudent to send more students, in line with a decision he and Israeli Prime Minister Benjamin Netanyahu reached during talks on Tuesday.
He spoke on Wednesday when he visited a Kibbutz where more than 70 Kenyan students are learning new farming technologies.
University students make up the bulk of those in Israel, with 25 students each from Egerton University and Jomo Kenyatta University of Agriculture and Technology.
The rest of the students on an 11-month training course are from the Kenya Water Institute (KEWI).
The Kenyan students are learning intensive agriculture production techniques, design and application of automated agriculture and irrigation systems.
Uhuru said the knowledge the students acquire will be used to revolutionise agriculture in Kenya, starting with the Galana-Kulalu Irrigation Scheme where the students will first apply their skills.
"A desert can truly be a paradise if we are committed. This place is drier than any part of Kenya but look at what they produce?," asked Uhuru who was taken on a tour of organic tomato farms and a section of the Kibbutz for dairy cows.
He urged the students to take their lessons seriously because Kenya awaits their expertise; he said the irrigation scheme will be ready for students who will return in a few months.
Uhuru said the scheme would have been productive by now had it not for the misplaced priorities of Kenyan politicians. He said the politicians have a habit of prioritising personal and tribal competitions instead of putting the interest of the country before everything else.
The Galana-Kulalu scheme was delayed for more than three years by obstacles created by politicians.
President was accompanied by the Israeli minister for Agriculture and Rural Development, Uri Ariel, who said he wants the relationship between Kenya and his country deepened.
Cabinet Secretaries Amina Mohamed, Eugene Wamalwa and Cleopa Mailu accompanied the President on the tour.
The President is on a 3-day State visit to Israel aimed at deepening the ties between the two countries.
On Tuesday President Kenyatta and Prime Minister signed an agreement paving the way for stronger collaboration in water and irrigation.
-the-star.co.ke