New twist as Waiguru names Jubilee bigwigs in Sh791m NYS scandal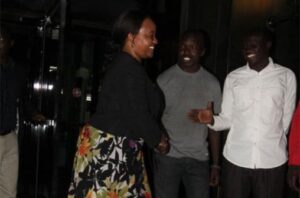 Farouk Kibet. Waiguru was on Monday grilled for the second time in three months by anti-graft detectives over the Sh791 million NYS scam.
She was summoned after businesswoman Josephine Kabura, a suspect in the scandal, swore an affidavit alleging that the former CS received millions from the fraud.
Anne Waiguru has stoked fresh controversy after she sensationally linked senior Jubilee politicians to the National Youth Service scandal.
The former Devolution Cabinet secretary filed an affidavit at the High Court in Nairobi yesterday in which she adversely named National Assembly Majority Leader Aden
Duale, Elgeyo Marakwet Senator Kipchumba Murkomen and Deputy President William Ruto's personal assistant.
Waiguru was first questioned by EACC on November 11, 2015, over the loss of about a billion shillings from NYS.
Kabura appeared before the EACC detectives yesterday where she was grilled for eight hours. She handed over an affidavit she had sworn earlier and said she stood by it.
Waiguru denied ever meeting Kabura and the mention of Ruto allies is likely to muddy the waters more.
Waiguru is fighting to clear her name after she was implicated by Kabura.
She has mentioned Jubilee politicians in her affidavit and the roles they played.
She claimed that Ben Gethi, who like Kabura is facing a number of criminal charges in relation to the scandal, paid Kibet part of the money he got from NYS.
"During the DCI investigations, there was constant communication between Gethi and Kibet with about 180 phone calls, some lasting for hours between the two," she claims.
She claims Gethi was in constant communication with former Planning Principal Secretary Peter Mangiti while Kibet also contacted Mangiti and former NYS boss Nelson Githinji during investigations.
Waiguru said on July 10, 2015, former NYS Deputy Director General Aden Harakhe informed her through a memo that there had been various attempts by political actors to intimidate him.
"The said memo states that on June 8, 2015, Mr Harakhe was texted and called by Mr Aden Duale who advised him that he required political support and that leaders from his region came from URP. Mr Duale warned that he needed to be careful lest he is used and dumped by the other side of the coalition," says Waiguru.
However, Duale dismissed the claims, saying Waiguru should table evidence and name the companies to back her allegations.
"Me as Duale, I am as clean as snow. I have never done any business with NYS and let her carry her own cross," Duale told The Standard on phone.
Duale added that he is waiting to see Waiguru's affidavit.
She added the said memo stated that on July 9, 2015, Murkomen visited Harakhe's office accompanied by a Mr Kimutai at the NYS headquarters along Thika Road. Murkomen said Mangiti had referred him to Harakhe.
According to Waiguru, Murkomen stated that he represented his clients who were the merchants whose funds had been stopped at the IFMIS and whose bank accounts were frozen by the DCI.
Waiguru says the accounts frozen were those associated with Kabura and Gethi.
"Around the same month of July, Senator Murkomen visited my office and informed me that he represents his clients who were merchants whose funds had been stopped at IFMIS. Murkomen passed the message from his clients stating that I tell DCI to drop the investigations and said I could face unspecified consequences if I did not adhere to these demands," she said.
Waiguru said she refused to yield and pushed the DCI to conclude the investigations.
She said it was then that impeachment proceedings against her by an MP from the URP wing of the Jubilee coalition were commenced and calls for her resignation started.
Kabura in her affidavit had claimed she met with the former CS in her house where they plotted how to form companies and open bank accounts. The companies were later given tenders by NYS.
According Kabura, Waiguru had instructed her to pay Sh80 million to head of Banking Fraud Unit Joseph Mugwanja Mugwanja, among other people.
Waiguru explained her interaction with Mutahi Ngunyi, a consultant, was based on the restructuring of NYS.
She admitted she knows Mugwanja in his capacity as a police officer.
Waiguru says in the papers it is Harakhe who brought to her attention the attempted fraud of Sh828 million at the NYS through the use of his IFMIS password.
-standardmedia.co.ke