GOVERNOR KABOGO: I'M NOT AFRAID OF FERDINAND WAITITU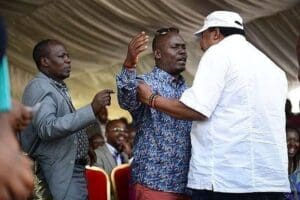 Kiambu Governor William Kabogo has dismissed claims he is afraid Kabete MP Ferdinand Waititu might unseat him in the 2017 elections.
Mr Kabogo has taken issue with the academic qualifications of Mr Waititu who has announced his bid for the gubernatorial race.
The governor, who filed a case last week, said claims that this was meant to get the MP out of his way because he had caused shivers in his political camp was trivialising an important issue.
Mr Waititu has vowed to unseat him in next year's General Election.
SERIOUS ISSUES
"I have not been driven by malice and when you starting shouting everywhere that I am afraid it's okay. To start talking about things that are in court and saying I am scared is trivialising very serious issues and you are either very wise or the opposite," Mr Kabogo said.
Mr Kabogo said he filed the case at Milimani Law Courts because he was concerned about various issues touching on Mr Waititu's academic qualifications.
The MP has said he acquired his degree from Punjab University as the governor did.
Mr Kabogo said he studied at Punjab University in India and the story of the MP, who has turned up the heat on him, did not add up and was very questionable.
ACADEMIC PAPERS
"I studied there (Punjab University) and I know how one is admitted there. I left here (Kenya) as William Kabogo Gitau. My academic papers had the name William Kabogo Gitau and so was my passport and when I hear people claiming that there are other ways to get there, I get concerned  because the college I went to was not that way," he said.
Mr Kabogo told the MP to stop engaging in theatrics by displaying his "purported" academic papers to the media and instead take them to court as his defence.
Speaking in Githunguri, the governor took issue with the MP for repeatedly describing him as a drug baron and a murderer, claims he said were false and aimed at soiling his name.
-nairobinews.nation.co.ke