Two arrested for sneaking explosive device in Uhuru's event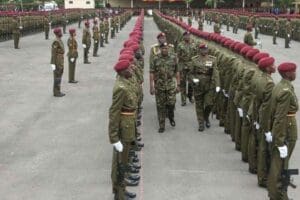 Two people, including a former policeman, have been arrested after they were found trying to sneak some components that could make an explosive device into a venue where President Uhuru Kenyatta was the chief guest.
The former officer was arrested at the main gate of the General Service Unit training school in Embakasi, Nairobi, moments before the President arrived to preside over the passing out of fresh officers on Tuesday.
A security alert was issued immediately after the arrests and GSU sentries were ordered not to allow vehicles or pedestrians into the venue.
Only those carrying VIPs, including Interior Cabinet Secretary Joseph Nkaissery were allowed in once the terror threat was discovered.
The suspects are being held at the anti-terrorism police unit headquarters.
Preliminary investigations show the suspect was carrying several components which upon being assembled, could have made a powerful explosive device.
The discovery caused panic among sentries manning entrances to the venue because there was a missing component which they suspected was to be sneaked in by a third suspect.
The venue was packed with people including the country's most senior security officers.
Inspector General of Police Joseph Boinnet was accompanied   by his deputies Joel Kitili (Kenya Police) and Samuel Arachi (Administration Police).
Families of the 1,976 officers who graduated during the ceremony were also present.
The colourful ceremony went  on for more than three hours without a hitch.
'TERROR THREATS'
Detectives said the suspects may have also been out to test the level of alertness by security officers.
The arrests came just days after Al-Shabaab named Ahmed Iman, a former student at Jomo Kenyatta University of Agriculture and Technology, the leader of the Kenyan wing of the Somalia-based  terrorist group. Though a fugitive in Somalia, Iman, last week, threatened that terrorists would carry out attacks in Kenya.
Meanwhile, the government yesterday released names of terror suspects who have been killed or arrested. The government erected bill boards in Nairobi with photographs of suspects and thanking the public for volunteering crucial information.
Six of them were killed while an equal number are in custody. Each of the suspects had a Sh2 million bounty on their heads.
Luqman Osman Shirwa aka Deere who was the Coast Al-Shabaab commander and leader of Jesh Ayman was gunned down at Baure military camp in June last year. He  was killed together with Briton Thomas Evans.
Another terrorist, Abdirahim Abdullahi, was killed by GSU commandos during an attack at Garissa University College on April, 2, last year, while Abdalla Salim Marumu and Suleiman Mohammed Awadh were killed during a police raid on a house in Kwachocha, in Malindi on January 20, this year.
A close associate of slain radical cleric Abu Makaburi, Said Abdalla, also died in the Baure attack.
Ikrima Mohamed Shosi, who was linked to the killing of a National Intelligence Service officer in Mombasa in 2015 is under arrest.
Abdifatah Twahir Abdalla was also arrested on January 5 in Mombasa while Salim Mohamed Wabwire is serving a 20-year jail sentence.
-nation.co.ke