Chase Bank owners traced to tax havens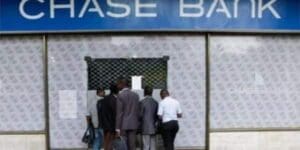 Ownership of the troubled Chase Bank, now under statutory management, has been traced to at least three offshore tax havens.
At least four of its largest institutional shareholders are in Cyprus and the Isle of Man in Europe, and Mauritius, where they exist only on paper.
While it is not illegal to own companies through shell companies, the practice is largely associated with individuals keen to conceal their wealth or evade taxes, as was revealed earlier this week in the now famous "Panama Papers".
Majority shareholders of the bank, who include former chairman Zafrullah Khan, have over the years channelled their ownership through shell companies.
"It is a smart way for investors to be tax-efficient," Nexus Business Advisory founder and managing partner Philip Muema told The Standard on the use of shell companies.
Such companies are usually registered in tax-friendly jurisdictions, he added, with the intention of minimising their payable taxes and "maximise shareholder wealth".
By January of last year, Rinascimento Global Ltd was listed as the largest shareholder in Chase Bank, controlling a stake of 15.9 per cent.
Rinascimento was registered on August 3, 2010 and has its registered offices at Anex Management Services, Mauritius, a firm that manages hundreds of shell firms.
Balst Investment Holdings, a Mauritius registered firm, is the third largest shareholder controlling 11.2 per cent. It was incorporated on June 26, 2000, and has offices at International Management (Mauritius) Ltd, Les Cascades Building in Port Louis.
Festuca Investments Ltd is the fifth largest shareholder in Chase Bank, holding a 9.3 per cent stake.
The company was first registered in the Isle of Man in August 1974 where it remains active, and much later in Cyprus in March 2010. The Cypriot company has four shell companies.
The three offshore firms jointly control 36.4 per cent shareholding.
Another firm called Shegas Ltd, which we could not immediately trace, owns a 13.9 per cent stake, while French company owns 10.9 per cent stake – after investing about Sh900 million three years ago.
-standardmedia.co.ke