Donald Trump to visit Kenya over lion's death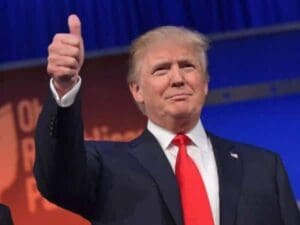 American presidential contender Donald Trump is to visit Kenya in the near future.
He wants to speak to the Kenya Wildlife Service about making celebrity lion Mohawk the new symbol for his presidential campaign, according to a story from the American News Agency.
Mohawk was shot dead by KWS rangers on Wednesday after it strayed from the Nairobi National Park.
A ranger killed the king of the jungle by spraying him with nine bullets.
They said they killed it because the KWS had run out of tranquiliser to sedate the animal.
The death caused a storm on social media.
Trump is expected to contact KWS chairman Richard Leakey this week through their mutual friend Angelina Jolie, who is making a film about Leakey's life.
" This magnificent lion had so much in common with Donald," Jason Linklater, a brand adviser to the Trump campaign, told ANA.
" The lion was fearless, just like Donald. Mohawk was at the top of the food chain, just like Donald. And Mohawk had an extraordinary mane of hair, just like Donald."
It is estimated Trump could pay up to US$1 million (Sh100 million) for permission to use Mohawk's image in his marketing campaigns.
Maxine Watson, an adviser to the Clinton campaign, said: "Trump is making a mistake using Mohawk for his campaign.
The lion got shot dead just like Hillary will dump him. Using the lion shows Trump is a loser."
And if you believe all this, you have forgotten that it is April Fool's Day.
-the-star.co.ke