Panic withdrawals haunted Chase Bank causing receivership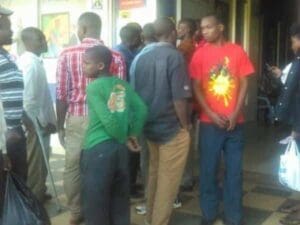 Panic over Chase Bank's financial state amid rumours of instability caused depositors to quickly withdraw their cash this week.
Reports indicated the CBK contacted the bank's management several times on Wednesday, with the hope that shareholders would pump in money.
Central Bank governor Patrick Njoroge is said to have made the decision to place the bank under receivership at 4am, following the frustration
Customers could not make withdrawals on Thursday morning after it was officially announced that the bank had been placed under Kenya Deposit Insurance Corporation .
KIDC will, for a period of 12 months, assume management control and conduct of the affairs and business of the institution licensed in 1996.
A spot check by The Star indicated that many customers hurried to the bank to try and withdraw their money while others were sent away.
"We arrived at 7.30am only to find the doors of the offices closed," an employee of the bank said by phone.
Customers in Kisumu tried holding demonstrations at the county's branches.
Njoroge said in his announcement that the bank was unable to meet its financial obligations.
"The bank experienced liquidity difficulties following inaccurate social media reports and the stepping aside of two of its directors," he said.
Chase Bank group MD Duncan Kabui and chairman Zafrullah Khan resigned on Wednesday amid growing public concerns over the health of the bank .
Paul Njaga, who has been chief executive and deputy group MD, said their exit was linked to the bank's financial performance in 2015.
The bank has sank into a Sh742.80 million net loss from a profit of Sh2.31 billion in 2014.
Central Bank also took over Imperial Bank in October 2015 and handed its management over to the KDIC over "unsafe or unsound business conditions".
Dubai Bank is under receivership following its take-over on August 14.
CBK said at the time that the bank was experiencing serious liquidity and capital deficiencies, raising concerns that it was unlikely to meet its financial obligation.
-star.co.ke