Raila creates his new kitchen cabinet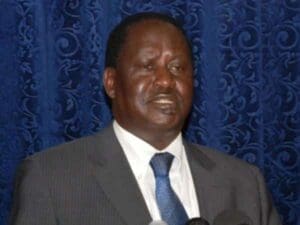 Cord leader Raila Odinga has created a new kitchen Cabinet to guide him in the run-up to the elections in August 2017.
He has picked top academics, anti-corruption crusaders and influential civil society players to make up his new political think tank.
The behind-the-scene-details emerged as the Cord top leadership converge today in Kakamega for the official launch of the presidential bid of Ford Kenya Party Leader Moses Wetang'ula, one of the three co-principals of the Cord opposition coalition.
In the think tank are controversial economist and columnist Dr David Ndii who last week advocated in the Nation that Kenya should be broken up into separate ethnic states; anti-corruption campaigner John Githongo who was Governance PS in the first Kibaki administration; former commissioner with the defunct Constitution of Kenya Review Commission Abubakar Zein; Kisumu Senator Anyang Nyongo, a professor of political science; human rights crusader George Kegoro, the executive director of the Kenya Human Rights Commission; University of Nairobi lecturer Adams Oloo; and Maina Kiai, UN Special Rapporteur on the Rights to Freedom of Peaceful Assembly and Association.
Party insiders believe that the new advisory team will create an "unstoppable brand Raila".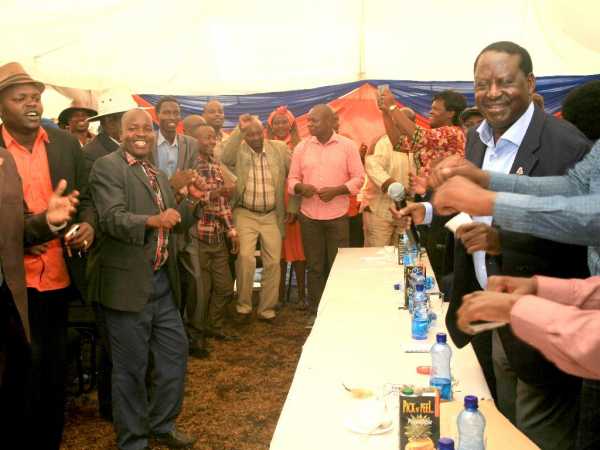 FIRST MEETING
The think tank had an initial daylong meeting in Nairobi on Wednesday this week to lay down strategies for next year's polls.
"These are the brains that will craft Cord strategies.
The work has begunand many meetings have already happened," a highly placed source within Cord said.
Raila has also engaged former Special Projects PS Andrew Mondoh as an advisor on administrative matters and lawyer Norman Magaya to be the Chief Executive Officer of the Cord Secretariat.
In the last two elections Raila relied for his policy think tank primarily on Prof Edward Oyugi, Prof Peter Wanyande, devolution expert Dr Mutakha Kangu and veteran journalist Sarah Elderkin.
These are the latest signals the opposition leader is speeding up his bid for the presidency in 2017, despite internal competition for the Cord nomination with his co-principals, Moses Wetang'ula and Kalonzo Musyoka.
It is likely Raila and Kalonzo will confi rm in Kakamega today that they will also be contesting the Cord presidential ticket.
However, insiders believe it is still highly likely that Raila will be the Cord presidential candidate.
The new think tank has been considering how to rectify the mistakes made in the 2013 presidential campaign.
Raila is laying the groundwork for what is expected to
be a do-or-die battle for the presidency against President Uhuru Kenyatta.
Coincidentally, nearly all the think tank members are newspaper columnists who stir up national debate by citing reasons why President Uhuru Kenyatta should be replaced.
Last weekend, Ndii in a tendentious article that went viral claimed "Kenya is a cruel marriage, it's time we talk divorce".
"We are now hurtling towards another election more ethnically polarised and angry than ever before…If Uhuru Kenyatta is declared winner in another sham election, this country will burn," Ndii warned in his Saturday Nation column.
Ndii's message resonates with Raila's drumbeat to his supporters that it will not be possible to rig him out of the 2017 presidential contest.
"Just register, vote and leave the rest to me. This time around, I am not coming to tell you my votes have been stolen," Raila has been telling rallies.
Ndii also helped Raila to fuel the debate on the Sh250 billion Eurobond saga that shook the Jubilee administration late last year.
The former Prime Minister and Cord claimed a staggering Sh140 billion was siphoned off and not injected into the Kenyan economy.
The new team is expected to re-energise Raila's campaign and boost his international image.
Githongo and Kiai are respected globally, with connections to international institutions including the United Nations.
However, the involvement of Kiai, a former chairman of the Kenya National Commission on Human Rights, may incite Jubilee supporters.
In January 2015, President Kenyatta accused former top KNCHR officials of doctoring its report on the 2007-08 post-election violence to save Raila Odinga from prosecution.
The ICC used the KNCHR report as part of its evidence against him at The Hague and President Kenyatta argued the report was undependable and partisan.
"KNCHR, in the first draft of the report, included Raila Odinga, the ODM leader, in the table of alleged post-election violence perpetrators, and recommended further investigations and his subsequent possible prosecution," Uhuru said in court documents at The Hague.
Nyong'o, an ex-ODM Secretary General, is the longest-serving member of Raila's kitchen cabinet.
Ababu Namwamba, who succeeded Nyong'o at Orange House, has taken a low profile at Cord's events, although he actively campaigned in Malindi for ODM candidate Willy Mtengo.
VISIT TO FRANCE
Next week Raila will fl y to France for a three-day visit for "private engagements", just after President Kenyatta who will be in France for a state visit between Monday
and Wednesday.
In the last week Raila has also been to Israel and South Africa.
To avoid the chaos surrounding past party nominations, ODM also intends to conclude its nomination process for all positions at least three months before the August 8, 2017, elections.
Chaotic primaries have been blamed for undermining Raila's campaign momentum in both 2007 and 2013.
Cord will also run a parallel electronic vote tallying system and deploy trained party agents in every polling station across the country.
-the-star.co.ke