Rowdy youth disrupt Ruto, Sang thanksgiving meeting in Kapsabet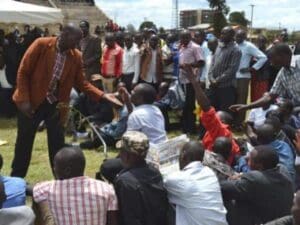 A thanksgiving and prayer meeting for DP William Ruto and journalist Joshua Sang aborted on Wednesday after chaos erupted.
Hundreds of Kapsabet town residents had converged at Kipchoge Keino Stadium for the midday prayers but drunk youths stormed in and stopped the proceedings.
The youths, some carrying twigs, claimed they were not involved in the planning of the meeting. They said the county government hurriedly organised it to celebrate the ICC verdict.
Governor Cleophas Lagat, woman representative Zipporah Kering, assembly speaker Edwin Cheluget and a number of MCAs were present.
Lagat watched in disbelief as the chaos erupted, with the youths grabbing each other by the neck and threatening to pull down tents that had been erected for the prayers.
Pandemonium broke loose when the prayer was turned into a supremacy battle between elected leaders and those eyeing their positions.
Rev Peter Rono of Kapsabet Pentecostal Church, who was expected to preside over the prayers, stormed off with his Bible claiming the meeting had been hijacked by hooligans.
Others who left the venue in a huff included Nandi council of elders chairman Benjamin Kitur and MCAs Wilson Sang (Chepkumia), Hillary Koiyon, (Kipken) and Joseph Toon (Chemundu).
Another group, which had been ferried from Nandi Hills, demanded to be addressed by JAP activist David Sum.
The move incensed other groups who disrupted his address, prompting Kering to join her supporters in singing the DP's praises.
Efforts by Cheluget and Kering to cool down the groups failed.
The governor addressed the agitated residents, declaring the prayers had been called off until a later date.
He told the meeting that the "forces of darkness" who had planned to have Ruto and Sang jailed at the ICC had been defeated and that they should now be firm in JAP.
-the-star.co.ke