Two Kenyans arrested after an armed robbery, police pursuit in Oregon
Two Kenyans arrested after an armed robbery, police pursuit in Oregon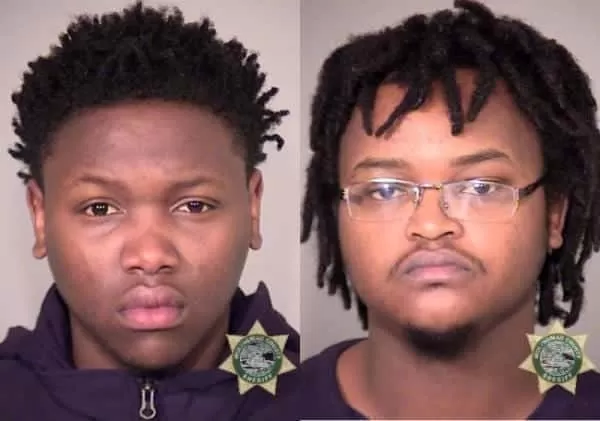 PORTLAND, Ore. (KOIN) – Two people were arrested on Monday morning after an armed robbery and a police pursuit.
Nash Muraya, 21, and Alex Ngatia, 20, are both charged in connection with an incident that spanned blocks of Southeast Portland on Sunday night.
The investigation started around 10:30 p.m. in the 10100 block of Southeast Washington when police responded to reports of an armed robbery.
The robbery victim told police he planned on meeting a man to buy gift cards when he was robbed at gunpoint. The man who robbed him fled in a car that had two other people inside.
The car with the suspects was spotted leaving the area of the robbery shortly after it was reported. Officers stopped the car in the area of Southeast 106th and Southeast Stark, but the driver took off and a high-speed chase resulted.
Officers tell KOIN 6 News that they ended their pursuit after the driver turned off the lights and was driving recklessly.
Just after the pursuit ended, officers were able to deploy a spike strip which hit the vehicle's tire.
The car was found abandoned in the area of 157th and Stark and police searched the area until they found the 3 suspects. The third person in the car, a woman, was released without charges.
Initially, the officers couldn't find the gun involved in the robbery, but after searching a second time it was found on the ground near the scene.
Two Kenyans arrested after an armed robbery, police pursuit in Oregon