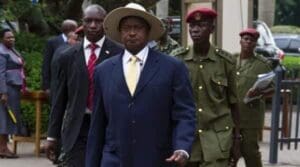 ICC is a bunch of useless people – Yoweri Museveni
NAIROBI, Kenya, May 12 – Like a wound that will never heal, the International Criminal Court (ICC) received another bashing from Ugandan President Yoweri Museveni.
Speaking on Thursday while introducing Heads of States who were attending his fifth swearing in as President, Museveni disparaged the ICC as a 'useless court'.
"We lost interest in the ICC," he lashed out.
"ICC is a non of our business. It is a useless body. We had supported the ICC initially thinking they were serious."
"But it is a bunch of useless people."
The statements came immediately after he introduced Sudanese President Omar al Bashir who is wanted by The Hague based court over alleged war crimes, crimes against humanity and genocide in the Darfur conflict.
Immediately after the jibe against the ICC, Museveni introduced South Africa's President Jacob Zuma.
South Africa fell out with the ICC after the court protested when it failed to arrest Bashir when he attended a summit of the African Union.
In its defence, South Africa said Bashir had immunity from arrest.


It was not the first time that Museveni scorned The Hague based court accusing it of targeting Africa and undermining sovereignty of its countries.
When he attended celebrations to mark Kenya's 50 years of independence in December 2013, Museveni cast his aspersions against the court which at the time had two cases against President Uhuru Kenyatta, Deputy President William Ruto and Journalist Joshua arap Sang.

Museveni has been among the top African Heads of States calling for mass withdrawal from the Rome Statute in protest of alleged selective investigations in African countries.
Last month, Africa Union Open ended Ministerial Committee on ICC came up with five issues that it wanted amended in the Rome Statute failure to which, it will continue with its push for collective withdrawal of African member states.
Some of the issues included immunity of Heads of States and precedence of African judicial mechanisms and decisions of the AU organs concerning ICC matters.
By JUDIE KABERIA