Kenyan man Ben Gitau marries another man in USA
Kenyan man Ben Gitau marries another man in USA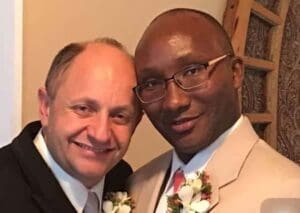 In a trend where Kenyan men are getting married to other men in countries whose laws allow it, a Nakuru man has tied the knot to his American mathematics professor.
Mr Ben Gitau, 33, and Mr Steve Damelin got married at Ann Arbor, Michigan in the US on Saturday afternoon.
Soon after the event, the two were seen at the Square's gardens kissing and fondling in public as friends and family members cheered.
However, a respected marriage and family counsellor in Kenya immediately criticised the wedding.
Pastor Philip Kitoto, of the International Christian Centre, Nairobi, said: "Culturally and biblically, marriage and sexual relations between people of the same sex is a sin."
"The Bible is clear that God created us in his image; He created us male and female. Therefore, in the Book of Leviticus 18:22 He warns men: 'Do not have sex relations with a man as one does with a woman'. God calls this an abomination."
Mr Kararu Ririe, a close friend of the couple and a confessed gay Kenyan residing in California, tweeted shortly after attending the wedding: "This afternoon I had a chance to congratulate my friend, Ben and his husband, Steve on occasion of their marriage. It is a rare thing to see a Kenyan man so courageous! Congratulations."
Mr Gitau lived in Atlanta, Georgia, before moving to California.
Pst Kitoto added in his reaction: "For the man and a woman, sex was not only meant for pleasure but also for procreation.
"That is why, in Romans 1:27-32, the Bible tells us that as mankind walked in disobedience to the commands of God, this led to a depraved mind where men lusted after other men and women after their own kind. They not only burned with passion for each other but they also recommended the same practice for others."
"What we need to understand is that God, in his love for us, still loves the sinner. However, he hates  sin. I believe when we turn to him in repentance, he will welcome us back."
Same-sex marriage was legalised in Michigan last June in a landmark US Supreme Court ruling, which struck down states' bans on gay or lesbian marriages between two people "as long as they love each other".
According to a family member who spoke to the Daily Nation on condition of anonymity, Mr Gitau met his 'fiancé'" in Atlanta, where the latter was a PhD student at the Georgia Institute of Technology.
Soon after taking the vows, Mr Gitau posted the following multiple hashtags — some of which are very popular within the gay community in the US — on his Twitter handle and Facebook page: #HappilyMarried #NewlyWed #GayCouple #GayHusbands #2Hubbies #Blessed #JewishHubby #ChristianHubby #Hubby1 #Hubby2 #4Ever1 #InGodsMath #GetItRight #NoWife #ThankYou!"
Mr Damelin is a well-known American scholar and professor of Mathematics.
-nation.co.ke