POLL: No Violence in Coast or Ukambani- Are Raila's Supporters Naturally Violent?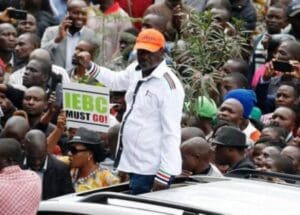 POLL: No Violence in Coast: The Anti-IEBC demos were supposed to be a Cord thing. All leaders in the coalition are supposed to be contributing, not just their presence but their supporters'.
However, until this week, the demos were confined to Raila's strongholds.
On Monday we saw protests in other counties, among them Kakamega, Kisumu and Mombasa… curiously none in Ukambani.
Here in Nairobi, the protesters are always believed to come from Kibera Slum where Raila has absolute support.
POLL: No Violence in Coast
Mombasa probably had the most peaceful protest of all the counties. Coast residents lived up to their reputation of being mostly calm and collected. There was some tear gas thrown around, but unlike Kisumu or Nairobi, there were little or no reported cases of throwing stones, mugging or looting shops.
Mombasa governor Hassan Joho even took the mic and warned those in the demo to be as peaceful as possible.
While the police are allowed by law to disperse rioting crowds, the rioters are not allowed to reiterate by throwing stones.
Raila's supporters have never shown any form of restraint. Not in the anti-IEBC demos, not historically.
Instead of Raila preaching peace and cracking down on his supporters who carry stones with them, he blames Jubilee for ferrying hooligans to tarnish Cord's image.
Reversing the blame may convince some in Nairobi, but I doubt Moses Kuria or whomever they blame can ferry youths all the way to Kisumu to cause chaos.
Fact is Raila and peaceful protests have never been synonymous all his life.
My opinion.. What's yours?
UPDATE: Cord has called off the demonstrations temporarily to give dialogue a chance