Drama as school directors held hostage by angry parents and teachers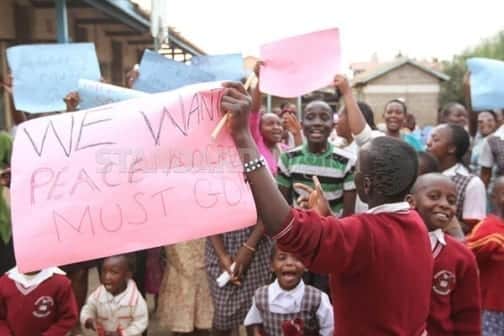 NAIROBI: A simple parents meeting at a school in Kasarani, Nairobi turned into a hostage situation after the institution's directors were forced to hide from the wrath of merciless parents.
The two directors Aggrey Kere and Peter Wambua of the Solidarity Child Rescue Centre and Primary School were held hostage in their own office for over seven hours as angry parents camped outside baying for their blood.
The parents and staff were accusing the two of swindling the school (which doubles up as an orphanage) over Sh6 million.
This includes some Sh100, 000 which the director took from the teacher's Sacco to pay up alleged unidentified investigators who had threatened to close down the school over the 2015 exam leakage scandal despite being advised otherwise by teachers.
The director, Mr Kere was also accused of securing a loan of Sh6 million channelled to his bank account but using the school as collateral in the disguise of buying a school bus.
But what was to be a short meeting with local authorities to solve the matter turned chaotic on Monday when Kere could not disclose how much money the school had collected from a previous harambee also meant to boost the bus purchase initiative.
It took the intervention of the school head Isaac Mutuku who pleaded for their mercies from the parents.
"He kept on changing the figures. One time he says Sh6, 000 then nothing, then he changed to Sh67, 000. There are over 300 children in this institution apart from us parents whom we were all given donation forms. Is the amount logic?" posed an angry parent Agnes Wanza.
When the two could not answer to the allegations, they had tried to escape but parents being aware blocked the gate and they (directors) sought refuge in one of the director's office (Wambua) who is also said to be a pastor.
Both parents and staff had joined forces to protest on their removal as the main sponsor of the school, Christina Eglinton (an Australian) had stopped sending funds on hearing of the allegations.
"Our recommendation is that Aggrey Kere and Pastor Wambua either voluntarily resign or are removed via a vote. We have been patient and more than lenient with both of these men but the blatant disregard of the law leaves us with no choice but to insist on their departure," read a letter from Eglinton also signed by other sponsors.
Apart from the above allegations, the two are also accused of forging the accountant's signature and minutes to allow Kere to access some Sh200, 000 to open a personal account at a local bank for him to secure a Sh6 million loan.
"He even refused to sign a cheque of Sh100, 000 for utilities and food stuffs. Instead, he employed someone to cook food donated to the institution and sell it to day scholars," said a staff John Mutangine who was once fired by Mr Kere as the school librarian for insubordination allegations but was reinstated on intervention from local authorities.
For two months now, staffs of the institution have not been paid with Kere and Pastor Wambua being adamant on stepping down.
"In fact Wambua is a wrong one. He even threatens children that he will close down the centre tells girls to be ready to fend for themselves when they join secondary. He once threatened me with stabbing when I reported about my unlawful dismissal," said Mutangine.
The two directors have already advertised the centre to get another set of sponsors.