Raila Odinga allies trash poll as Uhuru base steady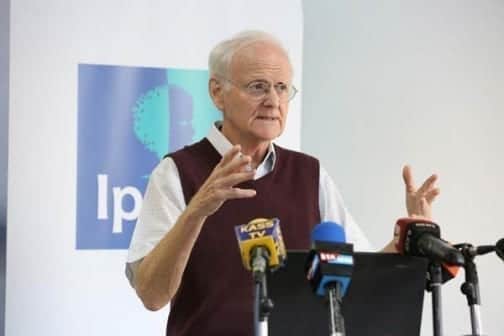 Nairobi, Kenya: A poll suggesting that majority of Kenyans don't want Opposition leader Raila Odinga to vie for the presidency in next year's elections has sparked uproar. The latest Ipsos survey suggests that collective 61 per cent not want Raila's name on the ballot for the presidential vote.
It showed that 35 per cent want Raila to retire from politics while 26 per cent still want him in active politics but not as a presidential candidate.
The number of respondents who said he should quit politics altogether remained the same (35 per cent) as in the December poll.
But those who want the ODM party leader to remain active in politics rose by four percentage points from 22 per cent recorded last year.
By party affiliation, the quest for Raila to quit politics was popular among Jubilee supporters at 60 per cent.
By contract, majority of CORD supporters at 69 per cent said the Opposition leader should not only remain active in politics but also run for the presidency.
"Statistically, there has been no change on Raila's candidacy since 2013. As long as CORD has not announced any change on who will be the presidential flag bearer, it is just assumed that it will be Raila hence the results," said Ipsos lead researcher, Tom Wolf.
Mr Wolf was referring to the tussle for CORD's presidential ticket between Raila, former Vice President Kalonzo Musyoka and Bungoma Senator Moses Wetang'ula.
Mr Wetang'ula recently unsettled CORD by declaring that Raila will never win the presidency after three failed attempts, and that he was the best bet for the coalition. Mr Kalonzo has also insisted that he has the best chance of beating President Uhuru Kenyatta.
opposition candidate
Representatives of the three have been locked in talks to decide how to pick the coalition's flag-bearer, with suggestions to commission an opinion poll to select the most popular candidate.
On confidence ratings, the poll showed that 25 per cent have "a lot of confidence" in Raila, 21 per cent "some confidence" and 15 per cent "only a little confidence."
Kalonzo polled 12 per cent, 26 per cent and 20 per cent respectively on the three scales while Wetang'ula recorded 11 per cent, 27 per cent and 20 per cent.
However, it is the polling on Raila's 'political future' that drew the wrath of his allies.
Seth Odongo, a CORD supporter who attended the poll release at Ipsos offices in Nairobi, asked: "Why would they every time ask if the public wants Raila to retire? Why should they not ask if President Kenyatta will retire?"
Wolf responded that research questions are formulated from what is already in the public domain.
"We have not heard of any proposal to have the President retire so we cannot ask such a question. It would be like imagining what if the sun rises from the west yet we know it has never done so and probably never will," said Wolf.
He insisted that the poll was funded by the research group itself through its policy of releasing at least quarterly reports on public issues.
But a chorus of condemnation continued, with Opposition MPs led by ODM Chairman John Mbadi insisting that Raila remained the favourite in the 2017 presidential elections.
"This is a big lie. What criteria did they use? What is the rationale of conducting opinion polls only about Raila and leaving other presidential candidates? What is the motive?" Mr Mbadi asked.
"Let it be known that Odinga is in the race for 2017 and that no amount of smear, hate mongering or sloppy opinion polls will lower his morale or resolve to run for the seat."
bias questions
Ugunja MP Opiyo Wandayi asked why the pollsters were obsessed with Raila's candidacy.
But Wolf accused the MPs of overlooking his presentation, which he said also covered Kalonzo and Wetang'ula as well.
"I am not sure what they mean by bias; maybe we will give them more time to explain so we can respond well," Wolf said.
MPs Onyango K'Oyoo (Muhoroni), Gedion Ochanda (Bondo), Fred Outa (Nyando) and Shakeel Shabbir (Kisumu East), also dismissed the poll and questioned its motive.
"If the motive is to portray Raila as being too old to rule Kenya, then they are daydreaming. He is at his best and sharper than ever before," said Mr K'Oyoo.
Mr Ochanda, a research veteran, questioned the scientific polling, saying it only focused on a single variant, which could not be used to generalise the overall voting pattern.
"We thought they would compare the percentages against other competitors rather than pick on one person and predict his future without considering the rest," argued Ochanda.
Kiminini MP Chris Wamalwa, although a staunch supporter of Wetangu'ula's presidential bid, said the survey did not reflect the reality on the ground.
"I want to dismiss that poll because it is the work of our enemy. CORD has a clear framework of reaching its preferred presidential candidate," said Mr Wamalwa
Ford Kenya Secretary General Eseli Simiyu, who is also the MP for Tongaren, refused to comment on the matter.
Busia Woman Representative Florence Mutua said, "The type of polls they are conducting are making people very angry. They should refrain from conducting any further polls until after 2017 General Election."
Homa Bay Town MP Peter Kaluma claimed Ipsos was a Jubilee propagandist machinery. He said it was high time opinion pollsters were regulated.
Lurambi MP Raphael Otaalo alleged the survey was sponsored by CORD rivals.
"Raila is the only man who can take on Jubilee so when someone comes out with unsubstantiated facts saying that 35 per cent of Kenyans want him to retire from active politics, it leaves a lot to be desired," said Mr Otaalo.