Drama as senator force herself into DP William Ruto's helicopter after rally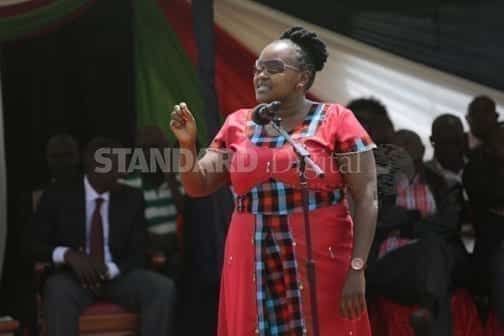 KENYA: A senator in Nakuru County caused a stir when she forced herself into Deputy President William Ruto's helicopter and insisted to fly with him to a meeting in Gilgil town.
Nominated Senator Martha Wangare who is eyeing the Gilgil parliamentary seat took the space that was reserved for Bahati MP Kimani Ngunjiri in the chopper and refused budge even with the intervention of the DP.
The incident that took place last Friday at Kongasis Secondary School where Mr Ruto had landed for a fund-raising ceremony for women groups and launch the last mile project, irritated Mr Ngunjiri who termed it as disrespectful and embarrassing to the DP.
"Even if leaders are seeking recognition and want to be seen as influential and well connected, they should carry themselves with dignity and decorum," said Ngunjiri.
The MP was among leaders who flew with the Deputy President from Nairobi to Ngorika in Nakuru County for the funeral of the former Nakuru Mayor Daniel Kanyi.
He later accompanied the DP to Kongasis for the launch where Senator Wangare was among leaders who welcomed them.
Yesterday, Ms Wangare downplayed the incident accusing Ngunjiri of trying to 'create a mountain out of an ant hill'.
The Senator described the incident as a non-issue saying the helicopter belonged to the DP and not the legislator.
"It was a small incident. The DP invited me to fly with him after the function and when Ngunjiri arrived at the chopper he was advised to get space in the other helicopter that happened to be full," she said.
But Ngunjiri dismissed her saying the DP tried to persuade the Senator to alight from the helicopter in vain.
"We wasted 20 minutes pleading with Senator Wangare but she stayed put. The Deputy President had to order his pilot to come back for me after it was evident that Wangare won't budge," he said.
UDF nominated Senator became the first woman in the current Senate to have a Bill she has sponsored signed into law.
Wangare sponsored the County Government (Amendment) Bill, which became law in June  this year after President Uhuru Kenyatta assented to it.