VIDEO:Family demands answers on daughter killed in UAE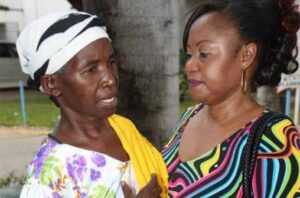 The body of a Kenyan woman who died in Abu Dhabi under mysterious circumstances two months ago has arrived in Mombasa for burial.
Salama Nyamvula Bongo's body landed at the Moi International Airport in Mombasa on Thursday aboard a Kenya Airways plane.
There was confusion over what caused the death of the 24-year-old on October 26 this year in the home of her employer in the United Arab Emirates (UAE) where she had gone to work as a house help.
Her embalmed body raised suspicion among family members who believed her neck was broken.
Nyamvula is a native of Mtwapa in Kilifi County and went to UAE to work as a house help in September this year.
Her distraught mother, Sidi Bongo, said at first the family received information that their daughter had died after committing suicide.
"I can recall that on October 26 I received a call from police in Abu Dhabi in the United Arab Emirates that my daughter had died after she allegedly committed suicide. But what I have seen on her body does not reflect the earlier information I had received," said Ms Bongo at Pandya Memorial Hospital mortuary.
Nyamvula will be buried in Mtwapa in Kilifi County today
She said her daughter was barely three weeks at her new place of work when she received information that she had died.
"I did not believe what I was being told because she was not sick and had not been tested to be sick when she left me to go to a new workplace," said Ms Bongo.
The 24-year-old's mother who spoke as tears rolled from her eyes said she suspected foul play in the death of her daughter, suggesting that the deceased could have been strangled.
"When somebody has died the neck is always stiff but this is not the case with the neck of my daughter who was very healthy when she left this place. She had not even spent one month at her new workplace.
"I do not know the cause of the death of my child but after checking the body I discovered the neck was either broken during strangulation or was slashed by the killers," said Ms Bongo.
Her heartbreaking sentiments were supported by family members led by Mganga Mbogo and Human Rights Activist Alex Mwanza who expressed shock at the condition of the remains of the girl.
"Upon checking the body we found that the head appears to have been detached from the body, which makes us believe something sinister might have happened," said Mr Mwanza.
Mbogo said since the pathologist advised them that it was not possible to conduct post-mortem on the body as it had already been embalmed, they had no alternative but to bury it
The mother, accompanied by Mombasa nominated Senator Emma Mbura, appealed to the State to help her know her daughter's killers.
Ms Mbura has asked the Ministry of Foreign Affairs to work with UAE embassy to investigate what had happened to Nyamvula.
Kilifi Governor Amason Kingi said he had to contribute Sh 200,000 for the transportation of the body to Kenya after the family approached him.
-standardmedia.co.ke