Kenya now battlefront for China and Japan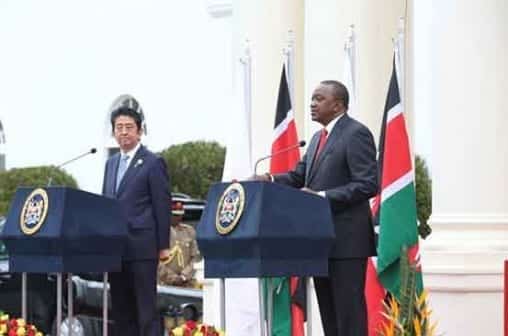 Nairobi is now the battle-ground for the scramble for Africa between China and Japan – two Asian arch-rivals in economic and territorial wars.
Yesterday, a Japanese minister told the ongoing TICAD conference that his country is bringing high quality infrastructure to Africa, which is China's biggest bilateral partner. Kenya is already emerging as a strategic entry point into Africa, a destination Japan chose to make a pitch for its firms as it hopes to check Chinese influence.
An agreement entered yesterday by the Japanese government and Kenya, Tanzania, Ethiopia and Mozambique promises "high quality" infrastructure.
The four-point understanding was intended to commit the infrastructure ministers to contract Japanese firms in their respective countries, which are currently dominated by the Chinese.
"We, the leaders in charge of infrastructure development and management advance and enhance cooperation to align the infrastructure investment with the above principles, utilising the capability of Japan," reads the agreement in part.
Transport CS James Macharia signed on behalf of Kenya, the pact entered with his Japanese counterpart Shinsuke Suematsu. Shinsuke said in a briefing that the agreement should be binding, noting that Japanese product quality was much higher than its main rival China's – but was better value for money as it was more durable.
High quality
"What we are offering is very high quality product," Suematsu said, adding that the price "might be a bit higher" and that Japan, unlike China, is keen on technology transfer to the local folk.
His was an all-out onslaught on Chinese contractors who have taken nearly every major infrastructure project in Kenya, including the Sh327 billion-worth Standard Gauge Railway. China is also developing the second phase of the SGR project at an estimated cost of Sh150 billion that would link Nairobi to Naivasha.
"Japan will employ the local people in these projects," he said. Japan is already building the Mombasa Port as the single largest project that it is also funding through loan, alongside the dualing of Ngong Road in Nairobi that is a Sh1.3 billion grant from Tokyo. Senior Kenyans officials who spoke to the Standard were, however, skeptical about engaging the Japanese firms considering the significantly higher price on their infrastructure projects, the quality notwithstanding.
"I am not sure we have the money since what we are getting from China is much cheaper and still good enough," said the State senior official, who might just have stoked a diplomatic showdown even before the Tokyo International Conference of Africa's Development climaxes.
New markets
Most Japanese attending the conference are business executives seeking new markets for their products, which they described as of higher quality. The Japanese contractors insist they have been strong on quality and skill to locals, in trying to set itself apart from its Asian neighbour, China.
Chief Executive of the Overseas Construction Association of Japan Yoshiro Yamaguchi, said Japan will put more emphasis on localisation, diversification, trust and credibility as well as corporation local businesses.Although Chinese firms have been active in the construction of some of the country's mega-projects, critics feel they have left a lot to be desired in as far as skills and technology transfer to locals is concerned.
Konoike Construction Company Limited is one of the Japanese contractors which prides in "sincerity, cordiality and promptitude" as well as giving "comfortable" and "rewarding" employment to its employees. The firm also built the Grain Silo Construction Project in Kisumu, Bungoma and Nakuru. It also recently completed the Narok Water Supply Project.
"We put emphasis on keeping the highest possible quality and successful completion in time. We also train local employees through 'On the Job Training' to enable them acquire better skills in terms of higher productivity," says Konoike in its profile.
Taisei Corporation was responsible for The Meru Water Supply which was completed in 2004.
Toyo Construction Company Limited is responsible for the container port in Mombasa.
However, Infrastructure PS John Mosonik would not be sucked into this contest of might between the two Asian giants. He said the government was open to working with any country. Nonetheless, in its look-east policy, Kenya has focused more on China. The world's second largest economy has dished out loans to Kenya to build roads and rails.