PHOTO:This is Where Ezekiel Kemboi Stepped on, Got Disqualified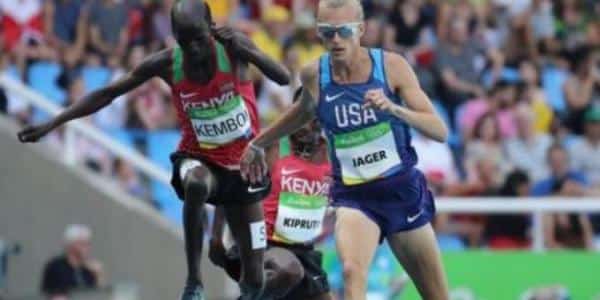 Kenya's Ezekiel Kemboi alongside Evans Javer (USA) in the Rio Olympics 3000-metre steeplechase.
A photo capturing the heart breaking moment that saw Kenya's 3000-metre steeplechase champion Ezekiel Kemboi lose his hard-earned Bronze medal at the Rio Olympics has emerged.
In the picture, Kemboi's foot is seen a few centimetres off the track, a mistake that prompted his French counterpart, Mahiedine Mekhissi – who came in fourth – to appeal the veteran's win.
Kemboi stepped outside the track just after clearing a water jump on the curved part before the home straight. Under race rules, runners cannot step off the inside edge of the track when running around bends.
Hours after the two-time Olympic champion was awarded the medal, he was disqualified over what was termed as lane infringement and Mekhissi promoted to third place.
The disqualification came after the steeplechase champion announced his retirement.
Kenyans on social media expressed varied reaction over Kemboi's elimination with some offering encouraging messages while others pointing an accusing finger.
Here are the reactions:
People's Parrot

@Danxdan19

Be cautious with the people you associate yourself http://with.Now you understand where Ezekiel Kemboi went wrong.