Kenyans lead clean sweeps at the Chicago marathon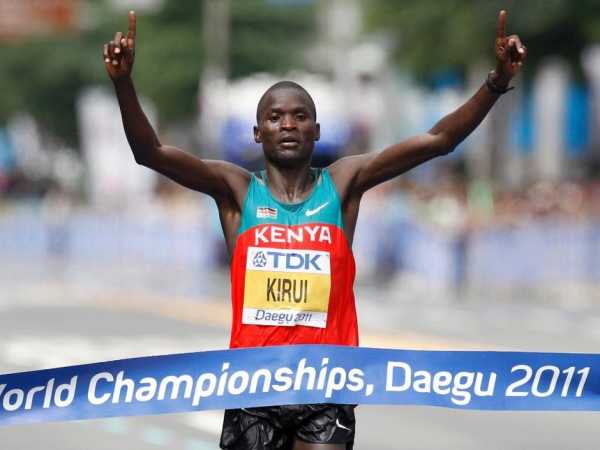 Two-time World Marathon champion Abel Kirui is this year's Chicago Marathon winner, crossing the finish line in a time of 2:11:23. Kirui was the Berlin 2009 and Daegu 2011 gold medalist.
The 34 year old led a Kenyan clean sweep of 1-2-3-4-5 at the podium, probably announcing his return to form after four injury-plagued seasons since he won Silver at the London 2012 Olympics.
"I was putting in my prayers and efforts in winning today. I had a very strong mind, this time I knew it was a matter of life and death. The course favoured me and I was lucky that the weather was not so humid," said the jubilant Kirui.
Kirui said that he now has his eyes set on winning in London next year during the World Championships.
"I was praying so hard that I get something here so that I request my manager to give me the three guys; Eliud (Kipchoge), (Kenisa) Bekele and Wilson Kipsang," said Kirui after his triumph.
Dickson Chumba, who went into the race as the defending champion, was dethroned and came in second in a time of 2:11:26 despite displaying a spirited fight to retain the crown in the 42 kilometer race.
At some point, it appeared like the 29 year old's dream would come true when he gallantly made Kirui to sweat it out with him in the last kilometer, but Kirui managed to pull away and held onto the lead to the tape, capping his win with a majestic dance.
Gideon Kipketer came in third with a time of 2:12:20 ahead of compatriot Paul Lonyangata who registered a time of 2:13:17.
Lonyangata had earlier in the race attempted to sprint away at the 25 kilometer mark, but his efforts resulted into a little more like a failed pace-setting attempt as he failed to shake off the chasing pack.
Lonyangata, 24, eventually gave up the fight with a few miles to the 40 kilometer mark and never recovered.
Compatriot Stephen Sambu stretched home behind him with a time of 2:13:35 to finish fifth.
On the women side, world champion Florence Kiplagat defended her crown in style, the second woman to do so in the competition, coming home in a time of 2:21:32.
She replicated Kirui's performance by leading a 1-2-3-4 sweep for the ladies.
Edna Kiplagat came in second with a time of 2:23:28 followed closely by Valentine Kipketer who clocked 2:23:41.
Purity Rionoripo wrapped up the Kenyan party by hitting the crossing line at 2:24:47.
Top Ten Finishes at the Chicago Marathon
Men
1. Abel Kirui(KEN) 2:11:23
2. Chumba, Dickson (KEN) 2:11:26
3. Kipketer, Gideon (KEN) 2:12:20
4. Lonyangata, Paul (KEN) 2:13:17
5. Sambu, Stephen (KEN) 2:13:35
6. Ayele, Abayneh (ETH) 2:13:52
7. Fukatsu, Takuya (JPN) 2:13:53
8. Estrada, Diego (USA) 2:13:56
9. Gokaya, Koji (JPN) 2:14:34
10. Kibet, Elkanah (USA) 2:16:37
Women
1. Florence Kiplagat (KEN) 02:21:32
2. Edna Kiplagat (KEN) 02:23:28
3. Valentine Kipketer (KEN) 02:23:41
4. Purity Rionoripo (KEN) 02:24:47
5. Yebrgual Melese (ETH) 02:24:49
6. Atsede Baysa (ETH) 02:28:53
7. Serena Burla (USA) 02:30:40
8. Agnieszka Mierzejewska (POL) 2:32:13
9. Sarah Crouch (USA) 2:33:48
10. Alia Gray (USA) 2:34:00