Raila pressured to endorse Kalonzo, Mudavadi ticket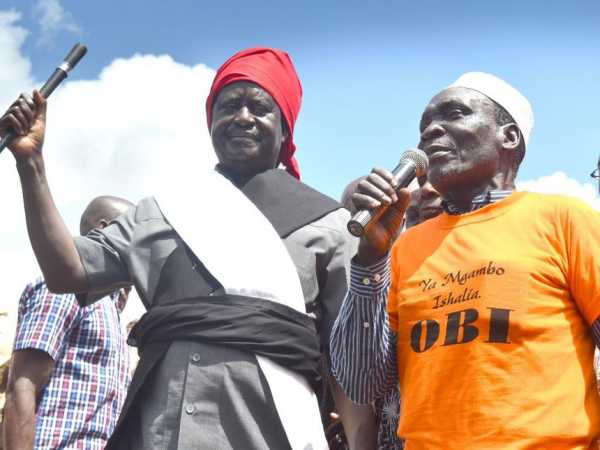 Pressure is mounting on Cord leader Raila Odinga to endorse Musalia Mudavadi as the opposition's presidential flagbearer in 2017.
According the campaign calculus of Raila's think tanks, if Amani National Congress leader Mudavadi and Wiper leader Kalonzo Musyoka are paired as presidential candidate and running mate, the coalition will defeat Jubilee.
The Jubilee Party is said to badly want Raila to run for President, believing President Uhuru Kenyatta and Deputy President William Ruto will win handily. An endorsement arrangement is much less appealing to the ruling coalition.
If Raila were to endorse another ticket, he would still remain a formidable statesman, "considering he has vied for the top seat three times", one think tank analyst told the Star.
Cord co-principals Raila, Kalonzo and Ford Kenya's Moses Wetang'ula have all declared they want to be President. Raila has also said, however, he would back the best candidate to defeat Uhuru.
ODM chairman John Mbadi yesterday said both Raila and Mudavadi "are closely engaged", adding he was confident they would work together. Mudavadi has said he is working with Raila on a personal level about policy, but there's speculation about forging an alliance.
Suba MP Mbadi emphasised, however, the process for selecting an opposition presidential candidate is tricky, whichever way it goes. Not everyone will be happy.
"If Musalia joins us in Cord, then we will be happy to consolidate the votes. But they will have to agree together with other co-principals [including Ford Kenya's Moses Wetang'ula] on the challenge of picking a presidential candidate," Mbadi told the Star in a telephone interview.
Sources privy to the latest developments say the move to back a Mudavadi-Kalonzo ticket is aimed at consolidating the Western region vote to run neck and neck with the huge Central vote bloc. Raila's political base of Nyanza and Kalonzo's Eastern region would combine to offset votes from Ruto's Rift Valley backyard.
But even as Raila's strategists brainstorm on the winning ticket, his headache is how to handle Wetang'ula whose political base is also in Western.
If Raila opts for Mudavadi, then Wetang'ula is likely to bolt and take votes with him.
Jubilee has been taunting Cord for not naming a candidate, less than a year to the August 8, 2017, elections. Several Jubilee MPs have indicated, however, they want Raila to head the ticket, predicting Uhuru will trounce him.
Cord has picked a six-member committee to advise how it should pick its candidate.
"All opposition members might not have a formal agreement to work together but they have agreed to work together to bring change in the country and send Jubilee home," Mbadi said.
The MP said engagement of opposition leaders was galvanised following what he called Jubilee's
intimidation of the opposition and civil society. He said this was calculated to kill constitutional democratic space.
"The Jubilee administration has also run down the economy by looting government resources and running down all institutions, as well being unable to provide good services in public facilities," Mbadi said.
ANC leader Mudavadi complicates bargaining for Wetang'ula who has influence over Western Kenya voters.
"Raila and Musalia have a strong chemistry since they have been together a long time and we believe they will work together, despite there being no agreement at the party level," Mbadi said.
He said the Musalia-Raila engagement is on a personal level and no specifics have been communicated to other officials.
"I cannot give out information on how much the committee has covered since it's premature. Wait for the outcome when we officially announce to the media," Mbadi said.
Yesterday, there were fresh calls by Wiper officials in Kisumu county for Raila to step aside and endorse Kalonzo in 2017. The officials said the 2012 MoU signed by Raila and Kalonzo was still valid.
Led by county party coordinator Duncan Nyumbah, the officials said Raila should be a gentleman and honour the memorandum. They also urged Wetang'ula to support Kalonzo.
Raila earlier declared the contentious MoU was no longer binding because he did not win the presidency. Nyumbah said the MoU was based on supporting a candidate, not somebody who has won elections or been defeated.
"The agreement was in the level of candidature, where Kalonzo supported Raila as the candidate in 2012 and he was to do the same for Kalonzo in 2017," Nyumbah told a press briefing in Kisumu. Coming out to be a candidate does not declare someone will win, he said.
"Our question is … do we support you for eternity so that even if you fail, we fail every day?" Nyumbah asked.
Cord had planned to recruit a foreign expert or experts to conduct a survey of which of the three co-principals has the best chance of winning and which combo has the best chance.
However, officials in Kisumu rejected the idea, saying the 2013 pre-election MoU is still binding.
ODM, Wiper and Ford Kenya already have endorsed their leaders for President, but the difficulty is finding a mutually acceptable formula to pick the winning duo.
So far, no foreign survey expert is helping the coalition.