Raila to tour Coast counties as MCAs question where loyalties lie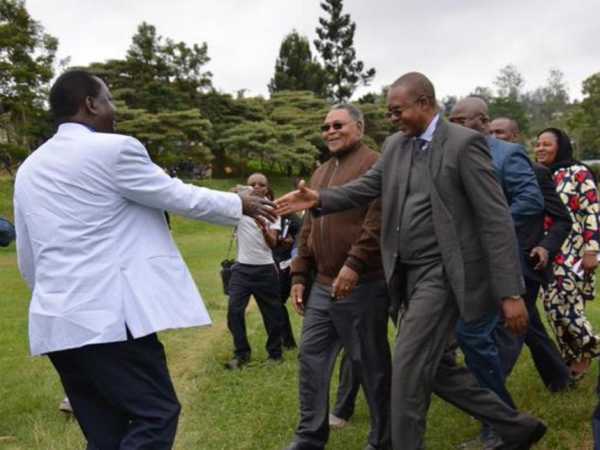 ODM leader Raila Odinga will tour the Coast region on Wednesday amid division in the party following complaints by politicians who were left out of plans.
The opposition leader will speak to residents of Taita Taveta before heading to Kwale later in the day, in the visit that will also cover Tana River county.
But Cromwel Baridi, Taita Taveta Majority leader, on Monday threatened to lead other MCAs in boycotting Raila's meeting.
He alleged that the county assembly was sidelined in preparations for his tour.
Raila met Governor John Mruttu , Wundanyi MP Thomas Mwadeghu, Mwatate's Andrew Mwadime, Voi's Jones Mlolwa and Taita Taveta woman representative Joyce Lay at his office in Nairobi last week to plan the tour.
"Any meeting concerning the party leader's tour of the region should involve the majority leader, the assembly whip or the deputy speaker," said Baridi.
"But the Governor and the MPs sidelined us in the preparations. The assembly should be respected because we represent the party at the grassroots."
He said they will leave the tour to the governor and the MPs who met the opposition leader.
But deputy majority leader at the assembly, Nominated MCA John Maghanga, differed with Baridi saying they should stand united in the party.
"A mistake has been made but this should not divide us. This is an ODM zone; we should be in the forefront to welcome Raila," he said, adding they were ready for the tour.
Taita Taveta Senator Dan Mwazo missed the Nairobi meeting.
Questions have been raised on several occasions on whether Mwazo is still loyal to the party because he barely attends Raila's meetings in the region.
Speculation has been rife that he is warming up to join Jubilee Party because he has never missed President Uhuru Kenyatta's meetings in the region.
He denied this saying he was in ODM to stay but he told President Uhuru Kenyatta in Voi in 2014 that he will campaign for him if he addresses the issues of land and poor roads.
The Jubilee government has since seen the construction of the Holili-Voi highway and the Mwatate-Wundanyi road which had been in poor state for decades.
It has also more than 26,000 title deeds to Taita Taveta residents.
Mwazo has been appealing to the electorate in the region to vote for a person and not a party.
The legislator has been categorical that the region made a mistake in electing people on party basis during the 2013 general election.
Raila's Coast tour also comes amid division following the disputed grassroots elections held towards the end of 2015; factions led by Mruttu and Mwadeghu emerged after the polls.
Mwadeghu has shown interest in vying against Mruttu for the governor seat in the 2017 general election.
-the-star.co.ke