VIDEO:Mike Sonko Causes Drama During Burial Service in Machakos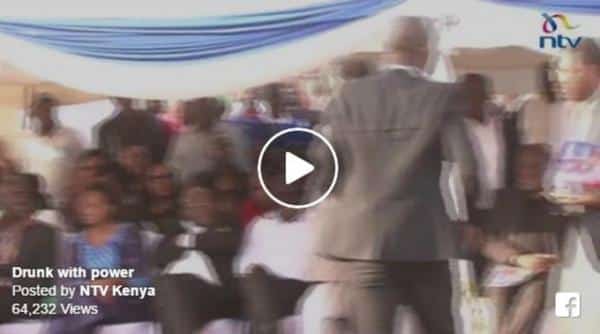 Nairobi Senator Mike Sonko caused drama Friday during a burial ceremony after declaring himself the acting President of  Kenya.
Mayhem enrupted in Mavoko, Machakos County after Sonko declared he be treated in accordance with protocol observed in an event attended by President Uhuru Kenyatta.
Attending the burial of husband to former Kathiani Member of Parliament Wavinya Ndeti, the Senator declared that he was the acting President since both Kenyatta and Deputy William Rutowere absent during the event.
"The President is in Togo and his Deputy is in France. I am now the third in command and the acting President of the Republic of Kenya. All these police officers and vehicles you see are here because am now the acting President," inferred Sonko.
The situation escalated for the worse after Sonko began hurling insults at those who tried to cut short his speech and seemingly tried to attack one of the mourners.
The statement which he made in the presence of CORD leader Raila Odinga sparked laughter and shouts and temporarily brought the event to a halt.
It took the efforts of Ms Ndeti and other leaders to restrain the Nairobi gubernatorial aspirant who kept uttering unprintable abuses.
After some minutes of arguments and shoving, the event resumed with Mr Odinga and other opposition leaders in attendance steering clear of the drama and rather concentrated on assuring of unity with CORD coalition.
Ms Ndeti who is eyeing Machakos gubernatorial seat during the 2017 election lost her Nigerian husband two weeks ago after a long illness.