What Uhuru's Cousin Did to Raila After Linking Her to Sh5 Billion Scandal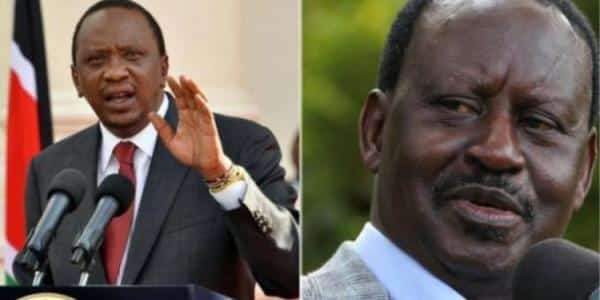 The ongoing war of words over alleged loss of Sh5 Billion from the Ministry of Health took an interesting turn following a statement by a Director of one of the companies said to have benefited from the loot.
The Managing Director of Sundales International Company, Kathleen Kihanya, who Kenyans.co.ke established is President Uhuru Kenyatta's cousin released a statement denying the allegations raised by CORD leader Raila Odinga.
Ms Kihanya however, concluded her two-page statement by seemingly making fun of Mr Odinga by quoting his own words cautioning people against laying blame on others without giving them an opportunity to be heard.
Clarifying that her company had cleanly won and duly executed a Sh41 Million tender, Kihanya stated: "I would like to finish with the words of Mr Raila Odinga at the World Economic Forum and I quote, 'do not condemn people unheard. Give people a chance to be able to explain themselves. I urge institutions charged with investigating corruption to remain professional, transparent and non partisan'."
She added that her company had transparently and honestly conducted business with the government accusing Odinga of using the ongoing investigations to propagate his political agenda.
"For someone to cast doubt on our integrity for unnecessary political mileage and exciting the public on false allegations is totally unacceptable especially when it is a person of Raila's standing," added Kihanya.
Kihanya who had previously worked in Mr Kenyatta's campaign team insisted that her company was ready to cooperate with the probe and support expedition of justice, requesting for an apology once its innocence is established.
On Friday, the Opposition chief claimed that President Kenyatta was aware of those implicated in the scandal quoting some of his family members and confidants.
For instance, he claimed that Sundales was managed by Kihanya, Nyokabi Muthama, who is said to be a sister to the Head of State and one Samson Kamiri.
He further stated: "This scandal is President Kenyatta's scandal. He must deal with it as such. He must tell the country what he knows, when he knew it and what he did when he knew it."
Odinga's statement followed an explosive report by a local daily revealing how the Sh5 Billion had been misappropriated through diversion of funds, double payment of goods and manipulation of the Integrated Financial Management System (IFMIS).
-kenyans.co.ke