Wiper calls for urgent talks to discuss Muthama over Raila mole claim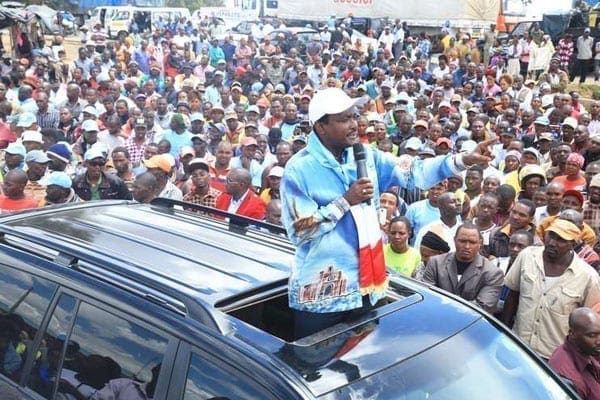 The Wiper Democratic Movement has called a crisis meeting on Tuesday to discuss claims that Machakos Senator Johnson Muthama is working with his Siaya counterpart James Orengo to block Mr Kalonzo Musyoka from the Cord presidential nominations.
Mr Muthama last week stormed out of a public rally when Mr Musyoka criticised him in public.
Mr Musyoka, a diplomatic and typically careful leader in his public utterances said of Mr Muthama: "If I lose the presidential race, it is Muthama who will have his trousers removed, like it happened in Parliament."
"I am fully aware of what you (Muthama) have been doing behind my back with Orengo to predetermine the outcome of Cord presidential nominations and deny me the ticket. You must convince the Wiper supporters that the ticket you are pushing for can deliver victory for Cord," he said at Sultan Hamud township on Saturday during a meet-the-people tour by the party.
The party will Tuesday hold a National Executive Committee meeting to discuss the allegations that Mr Muthama was acting as Mr Odinga's mole within the party.
"It is true that the party will be holding a NEC meeting on Tuesday to discuss a wide array of issues. I have received so many calls on the matter of Machakos senator and it is likely to be one of the issues that we will deliberate on," said Wiper Secretary-General Hassan Omar.
During the meet-the-people tour, Mr Musyoka told Mr Muthama that he was aware he and Mr Orengo were working against him in favour of Mr Odinga and warned him to prepare to face the wrath of Kamba voters in the next elections. Mr Muthama, who could not be reached yesterday, drove away in protest.
The Machakos senator had earlier criticised Makueni Governor Kivutha Kibwana, warning him that he must dissolve his Muungano Party or risk losing the elections.
The senator had harsh words for Machakos Governor Alfred Mutua whom he told off for forming Maendeleo Chap Chap party, saying both governors deserved to be kicked out of Ukambani, unless they dissolved their parties.
An agitated Mr Musyoka reprimanded Mr Muthama, saying he would not condone voices designed to divide the Kamba community. "On this one, I totally disagree with you. Do not create more divisions on my trip because we have come to unite the people. Although we all aspire to be in one party, we cannot achieve this by antagonising others."
On Monday, Mr Musyoka admitted urging Mr Muthama not to attack the Makueni governor before the Sultan Hamud Rally. "I had told Mr Muthama not to go that way because he had said he was going to blast Prof Kibwana.
He was not supposed to do that and I was not pleased because we are preaching unity in Ukambani. It was an incident-specific matter and we just differed on Prof Kibwana. There are no issues," he said. Leaders from both Wiper and ODM who declined to speak on record, pointed fingers at Mr Muthama, whom they accused of being behind the defections of five elected Ukambani leaders to Jubilee because of his "divisive and dictatorial habits".
They absolved Mr Musyoka of any blame, saying it was Mr Muthama's brand of politics that pushed Governor Mutua out of the party.
Mr Musyoka, however, defended Mr Muthama, saying the senator was being used as an "excuse" by MPs from Ukambani who defected to Jubilee.
He also denied accusing Mr Muthama of working against him or criticising him in public.
"We did not talk about Muthama dividing Kambas and favouring Mr Odinga as Cord presidential candidate. I am not that careless. I never discussed those issues …. I have no problem with the Machakos senator," he said.
The former vice-president explained that Mr Muthama was not a key member of the team that was formed by Cord to find ways of picking a presidential candidate.
"I don't remember if Muthama is a core member of that team. We had Benson Makali of Kitui Central and party chairman David Musila. Muthama and Orengo are in the Cord management team and do not play a key role in the presidential nominations," he said.
On Monday, Mr Orengo said he had been informed that the exchange at Sultan Hamud rally had been blown out of proportion and explained that the Cord presidential candidate would be determined by the coalition.
"It is not a matter that can be determined by one or two people. It will be decided finally by the coalition and I can assure you that the mechanisms to do that are in place," he said.
Earlier this year, Cord designated its steering committee made up of Mr Muthama, Mr Orengo and Tongaren MP Eseli Simiyu to take charge of nominations for the coalition's flag bearer.
Mr Musyoka, countered allegations by some party officials that Mr Muthama's role in the party and Cord was questionable, saying the party respected the freedom to hold divergent views
-nation.co.ke