Raila phobia used to get Jubilee voter numbers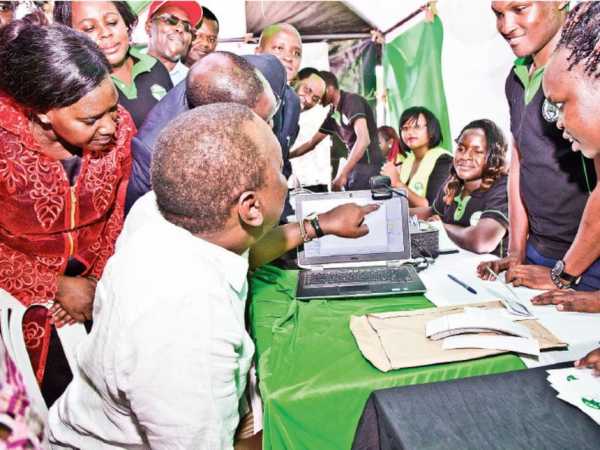 'Raila phobia' propaganda peddled by Jubilee is driving up President Uhuru Kenyatta's voter registration numbers in Central and Rift Valley.
While Jubilee is selling Cord leader Raila Odinga as the bogeyman and nemesis of all the good that Kenyans so richly deserve, the opposition is painting Kenyatta's administration as failed, indifferent, irredeemably corrupt and a two-tribe outfit.
The different but emotive campaign narratives have played out in voter registration as politicians battle for numbers that could well determine the outcome of the August 8 election.
Truth is not a compelling issue here.
Jubilee strategists are engineering a 'fear of a Raila presidency' and portraying the opposition as hopelessly divided among competing big parties and devoid of a Kenyan agenda.
It goes like this: Raila will be bad for business, development suffer, there will be few jobs, non-Cord regions will be punished and people will lose land as the report of the Truth, Justice and Reconciliation commission is implemented, especially sections on rectifying historical injustices.
Kabete MP Ferdinand Waititu even said if Raila wins, Mt Kenya residents will be humiliated and force to remove their trousers and wear shorts, as in colonial times.
Jubilee used this same strategy successfully in the last election — with a big dash of nationalism and resentment of the ICC. It claimed a Raila win would see innocent and victimised Uhuru Kenyatta and William Ruto jailed by a biased, anti-African court.
The two told their supporters the former Prime Minister was colluding with foreigners to fix them and eliminate competition.
Even if Raila should relinquish claim to the opposition banner, the Jubilee narrative is that since he is facto leader, whoever Raila chooses, will be his stooge.
Speaking on Kameme FM last Friday, Uhuru told Kikuyu listeners the August vote is not just about him, but their future. That's also what politicians worldwide say.
In Meru, the head of state asked young people to register and help get Raila "off his neck".
"This is not just about voting for Uhuru but about voting for your future. Our people, I am begging you, register as voters. Don't let me down. Come out in large numbers and let's do this together," Uhuru said.
The President's plea and all the bogeyman talk signals the Jubilee machine recognises the very real threat of a united and rejuvenated opposition under the National Supper Alliance.
Publicly Jubilee maintains it will have a decisive, first-round victory to block the opposition from challenging the slender margin in court, as in 2023.
"Last time they said they were not defeated, but they are well aware we floored them. This time we have to win with the highest margin. We don't want a situation in which as a government we forge two steps ahead, and then some individuals pull us five steps backwards," Uhuru said in Muranga last week.
The Raila Phobia, or Railaphobia narrative, is parroted by Jubilee foot soldiers.
Waititu, a key Uhuru ally, even said people in Central will be so deprived that they will be forced to "blow their nose on their elbow."
There is growing concerns these messages are meant to whip up ethnic emotions that could trigger violence similar to the 2007-08 post-election bloodshed.
"A campaign characterised by vulgarity is not good for the country," Dr Francis Kuria, executive director of the Inter-Religious Council of Kenya, told the Star. "The political leaders have been very vulgar which is very sad. Some of the people who are campaigning for national positions have not shown national maturity."
He added,"In my view, political leaders should concentrate on selling their ideas, not telling us the others have no ideas or the others are no good. Tell Kenyans what you are offering and let them agree or disagree. Don't tell them about what the other person is offering or not offering."
The opposition is pitching themes of economic decline and sabotage, unprecedented corruption, high unemployment, rising cost of living, insecurity and mounting debt as rally cries to send Jubilee home.
Raila's team discredits Jubilee for what it calls economic exclusion, failure to address historical injustices, including recommendations of the TJRC report, part of which has been kept secret by Uhuru.
The opposition also accuses Jubilee of trying to centralise power and weaken devolution by denying resources to the counties.
"If the last four years are anything to go by, 2017 elections will determine whether we remain a viable nation or go the route of collapse that has stalked much of Africa. Defeating Jubilee is not about the opposition taking power. It is a national duty and a civic responsibility to save Kenya," Raila told a rally of 4,000 leaders and aspirants at the Bomas of Kenya on January 11.
Opposition think tank economist David Ndii said Jubilee mesmerised Kenyans with what he termed "fantastic images of mega-infrastructure, bullet trains, space-age airports and iconic stadiums".
That strategy was a pretext for an unprecedented borrowing and plunder, Ndii said.
Uhuru calls the opposition narrative a fable and says NASA leaders have nothing to show for their many decades in government.
"Musalia Mudavadi joined government as a Cabinet minister when I was still in school. He was plucked from school and appointed a minister, and to date he cannot show what he did for Kenyans," Uhuru said last week.
Ironically, Uhuru and Mudavadi are age mates.
The President also said Wiper leader Kalonzo Musyoka has been in government for so long but cannot point to any project he initiated.
"Raila Odinga, who had half the government as Prime Minister, did nothing for the people," Uhuru said.
Uhuru and Ruto have been telling their supporters they should not regret or complain if they allow the "wrong leaders" to govern.
"If bad leaders are elected, it will not be the fault of those who were elected but the fault of you who refused to register as a voter and vote," Uhuru said in Meru.
They don't want Raila to spoil and undo all their good work.
Ruto has told supporters they will have no right to question what government does if they fail to elect it.
"Political parties win elections through numbers but why do you want to send Jubilee to war with the opposition without the necessary support? You should not waste your votes on someone who does not mean good for you and is always fighting government," Ruto told the Rift Valley.
-the-star.co.ke