Bandits storm church, disrupt mass burial of 10 people killed in Baringo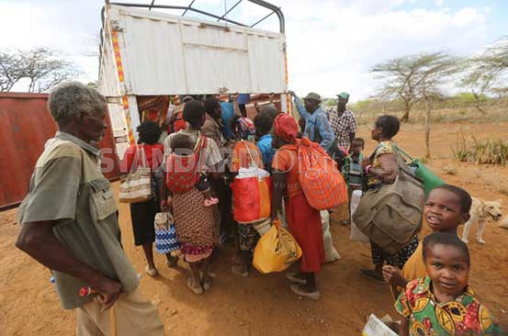 There was intense tension and confusion on Saturday at Mukutani in Baringo South during mass burial of ten people who were killed by bandits two weeks ago after an armed criminal stormed the church and begun shooting at attendants.
The armed bandits suspected to be from Pokot community raided the church while the bodies were being transported to Mukutani Full Gospel Church from Marigat hospital morgue at around 1pm. Benjamin Parkitore whose sister, two nephews and mother were being buried said gunshots were heard from a distance but they continued with the service because security had been beefed up.
"The bodies were being taken to the church but at around 500 meters away, we heard gun shots that caused tension. However while continuing with the service, we heard cries outside," said Parkitore. He said clergies, relatives and congregation that had attended the mass burial pleaded for forgiveness from the bandits but he fired at them mercilessly. Majority of attendants were forced to flee from the church for their safety because of fear of being killed.
"Everyone at the church was tensed after hearing the gunshots from a distance, we kept praying but a few minutes, the shootouts were heard outside the church forcing some of the attendants to flee because of fear of being attacked," he said. Parkitore said security personnel within the church premise acted swiftly, they arrived at the scene and shot the suspect dead.
After the shoot-out, he said the security personnel assured clergies, relative and congregation of their safety. Prior to raiding the church, the suspect is alleged to have tried to sneak at Rapid Deployment Unit (RDU) camp at Mukutani where he also fired to scare security officers. "We are grateful that nobody was injured during the attack because security personnel came at the scene on time and shot dead the suspect," he said.
-standardmedia.co.ke