Joho is sabotaging his own star by fighting Uhuru-Dannish Odongo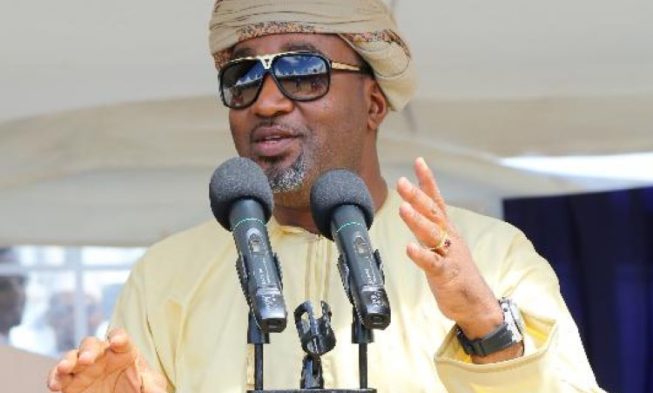 Just before the dust settled on the acrimonious and divisive elections of 2007, the 10th Parliament was convened for the Members of parliament to be sworn in. A young man who wore an oversize suit, with a haircut that looked like he was an actor straight from the Fresh prince of Bel Air comedy show rose up and delivered a passionate yet defiant speech.
Speaking on the floor of Parliament, he declared that based on his name (Ababu), he was supposed to be sworn in first and not the president-elect Mwai Kibaki. Ababu Namwamba became a household name.
He swore the oath of allegiance to Raila Odinga in parliament and referred to the president-elect as a fraudster and the Member of Parliament for Othaya. "I swear my allegiance to the president," said Ababu Namwamba, as he nodded his head to Mr. Odinga.
ODM party loyalists sang his praises. His star was shining and everyone in ODM loved him. He stood up for Baba in the hour of need. He was willing to take a bullet for him. He actually did though not in literal sense.
Last week, his party just declared their support for president Uhuru's reelection.
The same year, a young politician from the Rift Valley had managed to turn the bloc to embrace a man they had hated for years. Because Raila had been a thorn in the flesh of their man Daniel Arap Moi for many years.
William Samoei Ruto managed to sell a Raila Presidency in Kalenjin land. They even gave him a nickname, Arap Mibei to mean 'the son born in a place with the water body.' The man who was hated by this region just a few years ago was now voted for to the man.
Ruto worked tirelessly to campaign for his candidate of choice. Even after the acrimonious elections, he still continued as a negotiator in the ODM's side of the Koffi Annan-led mediation team. He gave his all to the party he loved. Arap Ruto is not known to support a cause half-heartedly. He goes all out for something or someone he believes in.
He was only a darling as long as he danced to the tunes of an individual. He was vilified and fired even after the allegations against him hadn't been substantiated.
Then rose another man in the party ranks. He was an eloquent speaker from the coast. Way before Joho rose, there was Najib Balala. He was in the pentagon with other leaders. He supported and believed in Baba. He stuck with him through thick and thin. And the fans of Baba loved him.
They gave him names that were interesting. They were borderline worshiping him; until he started professing a different ideology. "Ladies and gentlemen, I give you the president," was how Najib Balala introduced Raila to the 10th Parliament to a thunderous applause from his party.
Today, he supports president Uhuru Kenyatta's reelection and he is the cabinet secretary for tourism.
As long as the 'know it all' attitude of the party leaders isn't cut, the party will always complain of rigged elections even if they are the only ones on the ballot box.
If ODM doesn't encourage a culture of ideology and professionalism, the party can forget about the presidency; at least not in the near future.
Then rose a blogger who became really influential; a humble son of Kano who came to Nairobi to fend for himself and his family. With meagre resources, he managed to build a formidable online platform that catapulted him to an influencer.
His breaking news updates during the Westgate terrorist attacks were more 'trusted' than the ones from the state.  International media quoted him.
He confessed publicly that he was a supporter of ODM. He was actively involved in castigating the party for a shambolic 2013-nomination fiasco. Yet he continued to be pragmatic. He exposed the ruling coalition when he got his hands in any shoddy deal. He exposed the government at every turn. He was a die-hard fan of the party. He defended it.
Yet, after attending one of the state house summits, he was swiftly turned into a 'mole' by the same sycophants who sang his praises. According to the many die-hard party supporters, anyone who follows ODM must discard his individual identity and embrace the group thinking. How is it possible for the party to expect its members to follow them blindly like sheep? Is it hard to accept criticism?
In 2016, we saw a man whose star was rising steadily. He stood with Baba. He single handedly gave life to the 10th-anniversary celebrations of the party in Mombasa. He stood up and gave such a compelling emotional speech.
He is loved. He currently enjoys titles like governor 001. The party loyalists have given him names befitting a king. Social media is awash with praises for the man.
Ladies and gentlemen, today allow me to address Sultan Joho:
My brother, you have made your point. You have proven your worth as a political heavyweight. But now you must change tact. You cannot fight bare knuckle. If they go guerilla, adopt another strategy. If they go knuckle to knuckle, retreat and go guerilla. Fighting the head of state is like trying to put off the sun with your saliva. Remember that politics isn't personal. There is no permanent friend or enemy in this field.
Every party is selfish. The sad reality is that most of the national parties we have today are for certain communities. A number of them see their partners from other communities as towels be used and dumped, including ODM.
Don't risk your gubernatorial seat for a selfish party that suffers from a personality cult. You can correct the head of state without being 'disrespectful.' Sometimes wisdom is far much more valuable than courage.
A day is soon coming. That you will be spat out like a stubborn piece of meat. You will be slapped with a rude awakening that you never belonged to the party. You will be reminded that you come from a 'small community' that doesn't matter. You will be reminded that your religion is small so you can't lead the party. You will be called a mole. You will be labeled an outcast.
Therefore you must actively build alliances with both sides of the political divide. Devolved units can't function excellently well when there is no harmony between them and the central government.
It is discouraging to fight for a short-sighted party with self-centered and dictatorial leaders. It's surely hard to try and lay down your life for a party that has an attitude of entitlement. If it's not me, no one else is good enough to lead the party. If it's not my family, none will rise and lead the party.
And that's when the pain of betrayal will hurt more than a scorpion's sting.
BY DANNISH ODONGO
Source link- capitalfm.co.ke
Joho is sabotaging his own star by fighting Uhuru-Dannish Odongo