Bomet Governor to make a big political gamble by teaming up with Raila in NASA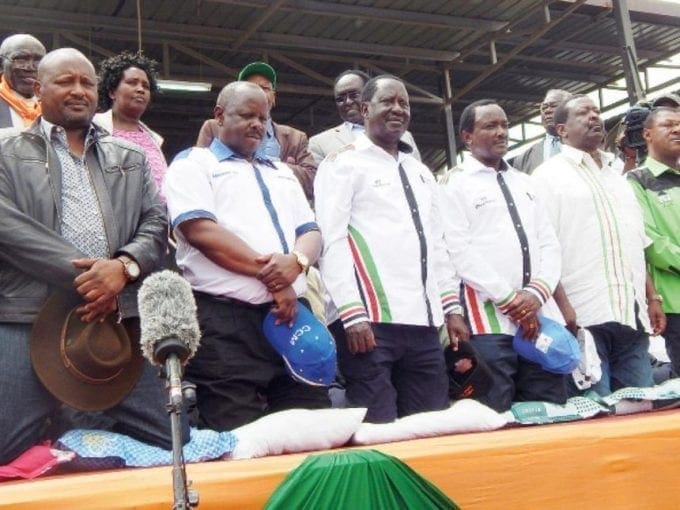 On the afternoon of February 16, 2012, Prime Minister Raila Odinga faced off with then Eldoret North MP William Ruto in Parliament over the International Criminal Court case. It was a tense House session as the two were confronting each other for the first time since the ICC's confirmation of the cases against Mr Ruto and five other Kenyans the previous month (the charges have since been withdrawn). Raila was angry at the nationwide prayer rallies for Ruto and Uhuru Kenyatta in which he was being vilified. During the bitter exchange in the House, Raila singled out Chepalungu MP Isaac Ruto – then an ally of the Eldoret North MP – as among those who coined the "Let's not be vague, let's go to The Hague" clarion call around which Opposition to a local tribunal was rallied.
Same corner
The two Rutos were fighting Raila from the same corner.
Fast forward five years later and the Bomet governor is about to make a big political gamble by teaming up with Raila in the Opposition alliance. Ironically, he blames Ruto, the deputy president, with whom he has since fallen out for his woes. The decision by the Bomet Governor to join the National Super Alliance has elicited mixed reactions in the Rift. Since announcing that his Chama Cha Mashinani party was not going to field any candidate for the presidential seat, Ruto has kept supporters guessing on which coalition to back in the august 8 General Election. Ruto has had a frosty relationship with Jubilee administration and especially Deputy President Ruto whom he has accused of dictatorial tendencies after he folded the United Republican Party (URP) for the Jubilee Party. Governor Ruto's decision to join NASA comes hot on the heels of just-released opinion poll that showed he was in a neck and neck race with Jubilee's Party Joyce Laboso who is also gunning for the governor's seat in Bomet. Governor Ruto who will now join NASA in a deal that may make him the fifth principal, may find himself in more trouble by his latest move after residents said they had no problem working with President Kenyatta. Yesterday, Governor Ruto said he was ready to meet Nasa co-principals Raila, Kalonzo Musyoka, Musalia Mudavadi and Moses Wetang'ula in the course of the week.
"I will be meeting the NASA principals. However for now, I am conducting party primaries between Tuesday and Wednesday. So we will be meeting from Thursday heading to the weekend," Ruto said. Governor Ruto's confirmation corroborates sources in NASA which indicated that he will be received in Nairobi before end of this week and hold discussions with the four before the chiefs fly down to the Coast to agree not only on who among them will fly the opposition flag but also a power sharing formula. The NASA chiefs are set to hold what they term "a schedule meeting" in Nairobi this morning and it is not clear if Ruto will join them. Asked if he has been invited to the Coast retreat, Ruto said; "Who told you the retreat will be in Mombasa? It can be anywhere and yes I will be attending the retreat." National Assembly Deputy Speaker Joyce Laboso said the political ground had shifted on Ruto and he was groping in the dark on what to do after sensing defeat in the gubernatorial race. "The governor is the minority in the county. We at Jubilee welcome his steps towards the Opposition. It's a misstep that we have no tears to shed over because it is his democratic right. We are nonetheless, sorry for him as he will find himself lonely and isolated some more," said Dr Laboso. She added that she had conducted a thorough campaign against Ruto and was almost certain that she would write history as the first South Rift female governor.
"Governor Ruto's move boils down to the fact that he has sensed that the Bomet gubernatorial seat will go to Jubilee Party and I will be the one to snatch the seat from him in a free and fair election," said Dr aboso. South Rift region bolted from Raila's ODM in 2009 after Raila oversaw the implementation of Mau taskforce report which led to removal of Mau settlers, majority of who were from the Kipsigis community who inhabit the South Rift Region. Political analyst and Historian Walter Chesang said Governor Ruto's move will jolt Jubilee support base in the Rift. Chesang said Governor Ruto will move with the South Rift vote which will not be easy for Jubilee to reclaim.
Report by Kiprotich Chepkoit, Geoffrey Mosoku and Nikko Tanui 
Source link-standardmedia.co.ke