Anxiety in NASA as fallout rocks Wiper, Kalonzo grip on Ukambani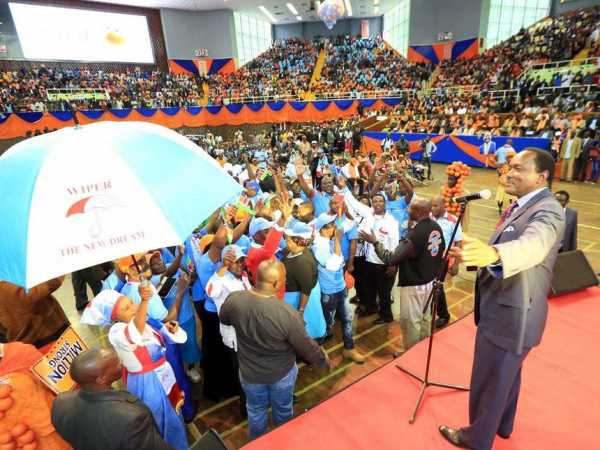 The vicious fallout and infighting in Wiper has triggered unease in the National Super Alliance.
There are concerns NASA's running mate Kalonzo Musyoka's grip on Ukambani is shaky.
The latest to dump Kalonzo was his former staunch ally and party financier Johnson Muthama, who branded Kalonzo a dictator and promised to shun Wiper campaigns.
Earlier, Wiper chairman David Musila resigned in a huff and blamed Kalonzo for rigging him out in the Kitui governor contest. There are concerns about how the team will navigate the row and efficiently campaign in the region. "The bigger picture is that the feud is not good for NASA. It can cause voter apathy and give Jubilee an opportunity. It's something that we have to manage as a matter of urgency," a senior ODM politician told the Star.
Mwingi North MP John Munuve, a rebel Wiper MP, suggested that Raila should kick out Kalonzo, terming the former Vice President an "empty shell". "If I were Raila, I would remove Kalonzo. What is he bringing to the table? Its like having a brand new bus without an engine and the gearbox. The driver was Musila and the makanga (conductor) was Muthama. Without them there is nothing," Munuve told the Star.
I am afraid, Munuve went on, "Farah Maalim is not a replacement for Musila". NASA approximates that it will bag 5.6 million votes from its three core strongholds.
These are 1.7 million from Kambas, 1.7 million from the Luo and 2.2 million from the Luhya community.
President Uhuru Kenyatta has been on a charm offensive in the region, and the Wiper feud could be sweet music to his ears. But Makueni Senator Mutula Kilonzo Junior downplayed the fallout and fired a warning salvo to renegades, insisting they will turn into pillars of salt like the biblical Lot's wife. Kilonzo, whose father Mutula Kilonzo was among the founders of the party, said they are on course, despite the challenges they face.
"The party has young leaders who are more than ready to steer the ship to greater heights. We must own up to our mistakes, repent, take up the challenges and soldier on. Those who turn back will turn into pillars of Salt like Lot," Kilonzo said.
But Munuve dismissed Kilonzo as "latecomer who cannot adequately address a big rally in Kikamba".
The fallout in Wiper began during a roadshow on Mombasa Road, during which Muthama demanded the folding of all briefcase parties in Ukambani.
Source link-the-star.co.ke