DRAMA as Kenyans cook UGALI outside President Uhuru Kenyatta's office
Hundreds of Kenyans have held a walk to President Uhuru Kenyatta's office at Harambee House in Nairobi – The held the walk to thank the president for reducing the price of unga to KSh 90 – Some of the Kenyans caused drama outside the office when they started cooking ugali in appreciation – The price of Unga had until Tuesday May 18 shot to an avarage of KSh 150 causing an outcry from Kenyans over the high cost of the stable food – The opposition has since taken up the issue and turned it into a campaign tool, blaming the Uhuru regime for occasioning a high cost of living Kenyans on Thursday, May 18, where treated to a rare drama when hundreds of Kenyans held celebrations outside President Uhuru Kenyatta's office at Harambee House. They had earlier held a walk in support of the president and the government for reducing the price of UNGA from a high of KSh 150 that had made many household seek alternative foods to Ugali.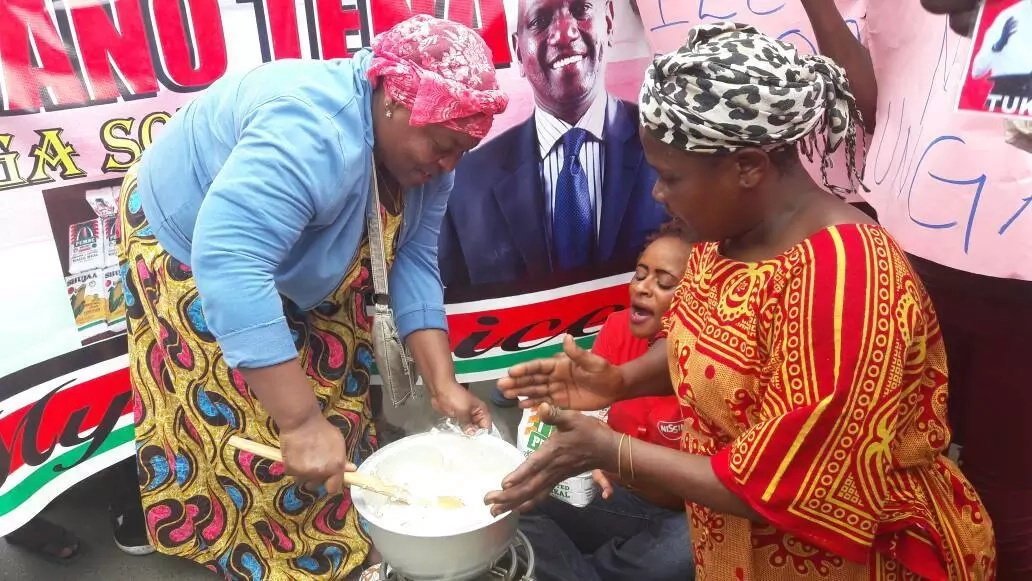 Kenyans cooking ugali outside President Uhuru Kenyatta's office in Nairobi.
They caused drama outside Harambee House when they lit jikos to cook ugali while others danced and sang songs in support Uhuru and the Jubilee government.
Scenes outside harambee house where people are showing their appreciation for the drop in unga prices #UngaAt90 pic.twitter.com/LqwhfrkhqZ

— Anne Kamande (@AnneKamande1) May 18, 2017
The love for the Ugali #UgaliAt90 pic.twitter.com/cdj2QuZ93v

— shadrack khiso (@khissizle) May 18, 2017
TUKO.co.ke has learnt that the rally was organised by Jubilee Party leaders in Nairobi. The leaders had organised youth and women groups to appreciate the government after it had come under fire from the opposition alliance NASA over the unga crisis that had affected the country.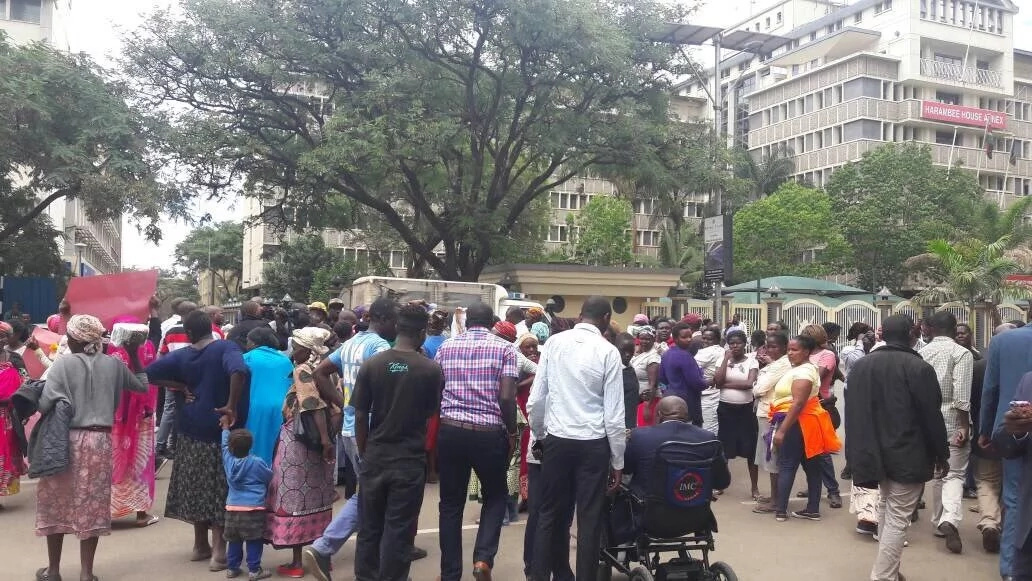 On Tuesday, May 16, the government announced the reduction of unga prices that had skyrocketed to nearly KSh 150. The escalating price of unga was arrested when the government decided to subsidise production which resulted to a 2 kg packet of Unga retailing at KSh 90 and KSh 47 for the 1Kg packet.
For weeks, Kenyans had been up in arms over the high cost of living. The price of basic commodities such as sugar, milk and unga have gone up by at least 50%, frustrating family budgets.
The price of milk is now at between KSh 65 and KSh 80, up from KSh 48, and sugar now sells for KSh 400 per 2 kg, up from KSh 240 range. On Monday, May 15, Transport Principal Secretary Paul Mwangi confirmed the country had imported maize. Mwangi said the maize had been imported to South Africa in 2106 from Mexico which made it possible to supplied to Kenyans within five days. Kenyans online reacted claiming corruption was involved as the maize had hit the shelves just two days after docking at the port.
Sourcce link-tuko.co.ke