Turbulent life and times of Senator Muthama's ex-wife Agnes Kavindu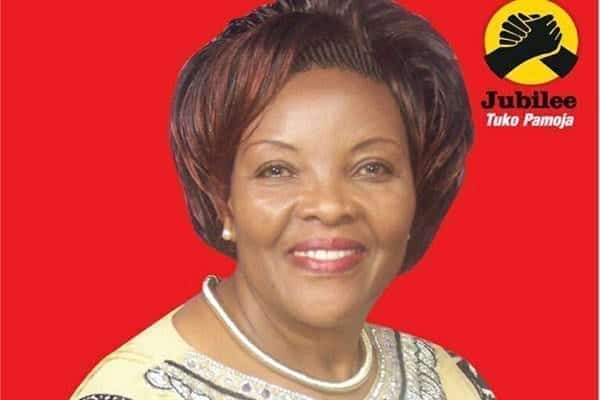 Agnes Nduya Kavindu: The woman who once resorted to using swimming pool water to bath and wash recently hit the headlines after clinching the Jubilee ticket to vie for Machakos woman representative.
But this is not the first time that Senator Johnson Muthama's estranged first wife Agnes Nduya Kavindu has hit the headlines.
Her family dramas are well-documented. We highlight some of them here.
She married and divorced Muthama twice
Senator Muthama married Kavindu, 60, as his first wife in 1978 but later divorced her in 1983 citing cruelty, according to a divorce document in court. The court granted her custody of their three children even though the politician has been taking care of their bills. According to the documents, Kavindu was married again to the shrewd wealthy gemstone dealer in 1996, but the union did not last.
She argued, however, that after the divorce they lived separate lives for years, but said the senator had a change of heart and decided they should remarry. She accepted his proposal and they lived together in their matrimonial home, even bearing a child, who is now 21 years old. She says this amounted to a marriage by virtue of their cohabiting. But the senator's stand was that there was no marriage between him and Kavindu since the first one ended in a divorce in 1983.
She wants half of Muthama's fortune
The remarriage had been rocky for the last six years or so, but hasn't been amicably dissolved due to court proceedings where she is fighting to prove her entitlement to half of the controversial politician's fortune, according to Diaspora Messenger.
According to the Diaspora Messenger, Kavindu is fighting to get half of her ex-husband's property, which she feels entitled to as his former spouse. Muthama is known to have built her a new home on a 100-acre piece of land so she could move out of their matrimonial home. The 30-bedroom mansion was later a bone of contention after she claimed in 2014 that the politician was trying to evict her and convert it into a resort or office for his political activities.
Through the Federation of Women Lawyers (Fida), Ms Kavindu in 2014 sued her husband for attempting to evict her from the home in Kitanga Village, off the Machakos-Nairobi road.
She had accused Mr Muthama of mistreatment — including disconnecting electricity and water to the palatial house, something that forced her to resort to using swimming pool water.
She claimed Muthama cheated on her
In October 2014, when she hit the headlines, accusing her husband of mistreating her, she also claimed that he cheated on her while she was abroad for work-related issues. According to Kavindu, while she was away, her husband secretly married a second wife, who bore him six daughters before he divorced her too. However, speaking in his defence during a political rally, Muthama confessed publicly that he is a man of many wives because he can take good care of them.
She is an evangelist
Kavindu is popularly known as Pastor Agnes and does her missionary work in her home town of Maua, Machakos, where she is a staunch member of the Kyemutheke A.I.C Church.
Kavindu has promised to support the rights of women if elected. It remains to be seen whether she will start by fighting for her own rights.
Source link-nation.co.ke
Turbulent life and times of Senator Muthama's ex-wife Agnes Kavindu