Igad to foreign donors: Leave Kenya elections alone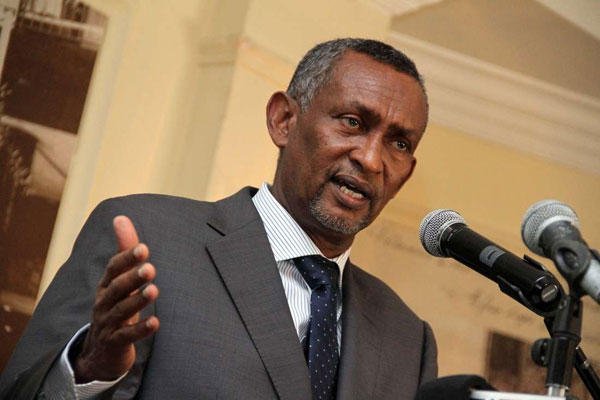 Regional bloc Igad has warned unnamed foreign donors against "interfering" with the forthcoming elections in Kenya.
In a dispatch, the seven-member grouping of African nations in the Horn of Africa said every foreign actor should leave it to Kenyans to determine their leaders on August 8.
"The Igad Summit encourages Kenyans to be peaceful during the electioneering period, and calls upon external actors to respect the sovereign rights of Kenyans to choose their own leaders without interference," the bloc said in a communique on Monday.
ADDIS MEETING
Earlier this week, Igad (Intergovernmental Authority on Development) met in Addis Ababa to discuss the conflict in South Sudan, where more than 1.3 million have fled the country and tens of thousands others have been killed since 2013.
After the meeting, the communique focused mostly on South Sudan, "condemning" the violence and "urging" parties to choose dialogue. Igad is composed of Djibouti, Kenya, Uganda, Somalia, Ethiopia, Sudan and South Sudan.
The statement was approved by Sudanese President Omar al-Bashir, Uganda's Yoweri Museveni, Ethiopian Premier Hailemariam Desalegn, his Somali counterpart Hassan Ali Khaire, South Sudan First Vice-President Taban Deng Gai, and Djibouti Foreign Minister Mahmoud Ali Youssouf
But Kenya, represented at the meeting by Foreign Affairs Cabinet Secretary Amina Mohamed, presented a report detailing its readiness to hold credible elections on August 8.
SUPPORT IEBC
That the bloc cautioned foreign donors indicates a consistent pattern by African organisations, and Kenya government officials, to accuse foreign bodies, mainly from the West, of interfering with local elections.
Regarding the elections, Western donors have mostly been supporting the Independent Electoral and Boundaries Commission (IEBC) to prepare for them as well as send observers to check on their credibility.
With a total donation of $24 million (Sh27.7 billion) from the UNDP, UK, US and EU, the programme involves training and supporting the IEBC and other government departments involved in securing elections, as well as helping women to contest.
In the last elections in 2013, the US in particular and Western powers in general came under criticism for insisting on essential contacts at the time President Uhuru Kenyatta and his Deputy William Ruto were facing charges at the International Criminal Court.
And while the African Union last year called for reforms in the IEBC, the continental body has often seen Kenya's past elections as credible even where parties have complained.
Source link-nation.co.ke