LIVE STREAM: Celebrating self rule-Madaraka Day Celebration
LIVE STREAM: Celebrating self rule-Madaraka Day Celebration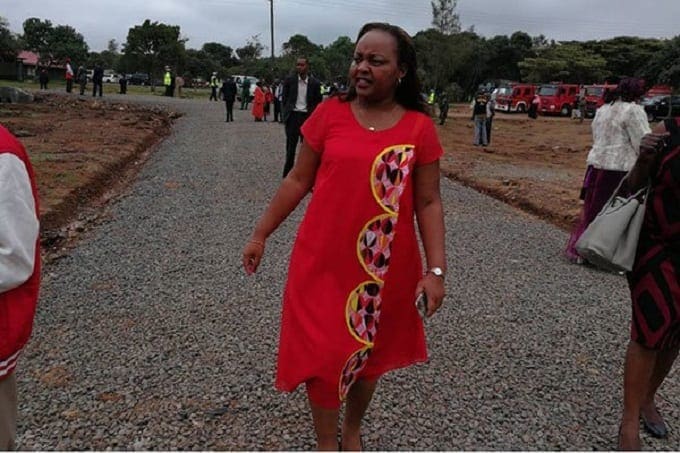 President Kenyatta and opposition leader Raila Odinga are sharing a podium for the first time since they were cleared by the elections agency to vie for the top job during Madaraka Day celebrations in Nyeri.
More than 20,000 people are expected to attend the ceremony – the first to be held in Mt Kenya region since independence – at Kabiru-ini stadium.
HAPPY DAY
Both leaders were earlier this week cleared by the Independent Electoral and Boundaries Commission to run for the presidency in the August elections and have not shared a platform ever since.
Nasa presidential candidate Raila Odinga, National Police Service Commission Chair Johnstone Kavuludi and his National Land Commission counterpart Muhamad Swazuri at Kabiru-ini stadium in Nyeri. PHOTO | LEONARD GUCHU | NATION MEDIA GROUP
Mr Odinga on Wednesday told journalists that he would attend the national celebrations marking the 54th year since Kenya attained self-rule.
"Madaraka Day is a very important day in our political calendar and we celebrate it whenever and wherever we are…We wish everybody else a very happy Madaraka Day," he said in Nairobi.
In his message ahead of the celebrations, President Kenyatta  asked politicians to shun violence before and after elections.
"There are forces who wish to return us to the more unsavoury chapters of our nation's past. Our independence is incomplete if our disagreements are settled not in court or in the voting booths but on our streets with the threats of violence and intimidation," wrote the President in a message sent to newsrooms.
TRIBALISM
He also asked Kenyans to shun tribalism and embrace the spirit of democracy.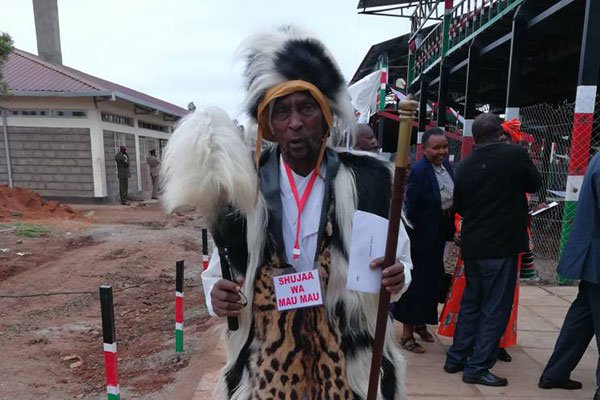 Mau Mau fighter arrives for the celebrations at Kabiru-ini stadium in Nyeri. PHOTO | LEONARD GUCHU | NATION MEDIA GROUP
"Elections should be a great celebration of hard won democracy and liberty a time when the nation speaks and elects a leader who will serve the people and their interests," added the President.
The meeting with opposition leaders today also comes two days after an opinion poll showed that President Kenyatta is still the favourite among voters with 47 per cent indicating they would vote for him compared to Mr Odinga's 42 per cent.
Today's event is also the first time the President will be visiting the central region since the chaotic Jubilee nominations last month where some of his key allies were kicked out by voters.
The theme for this year's celebrations is "Our unity is our shield."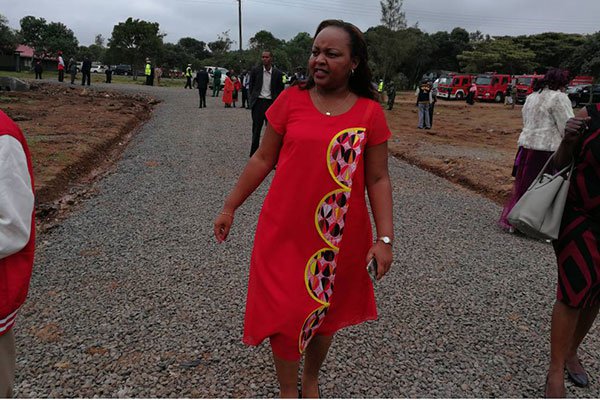 Former Devolution CS Anne Waiguru arrives for the fete at Kabiru-ini stadium in Nyeri. PHOTO | LEONARD GUCHU | NATION MEDIA GROUP
This is the third time the celebrations are being held outside Nairobi after Nakuru and Machakos counties hosted the 53rd Madaraka and Mashujaa Day last year respectively.
But the choice of Nyeri is significant since most Mau Mau fighters who fought for independence came from there and used the nearby Aberdare forests as their hideout.
From Dedan Kimathi University named after the liberation hero to Mau Mau squatters and veterans, the region is a repository of the country's history.
As part of the celebrations, a Sh418m stadium in Nyeri will be commissioned  today and will be ready in eight months.
Source link-nation.co.ke
LIVE STREAM: Celebrating self rule-Madaraka Day Celebration