Raila Odinga promises to legalise chang'aa drinking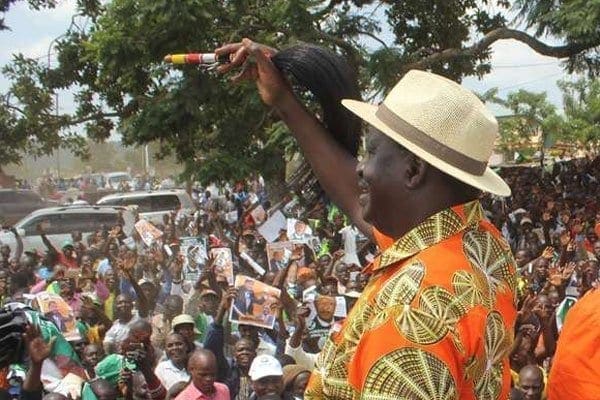 National Super Alliance (Nasa) presidential candidate Raila Odinga has said that if he wins in August, his government will legalise the traditional brew chang'aa, in addition to improving the lives of civil servants.
Mr Odinga said a Nasa government will change how "things are done in the country".
"There is no law in this country that prohibits Kenyans from consuming chang'aa. People should be allowed to enjoy their favourite drinks," he said.
Speaking at a rally on Friday at Sirisia Grounds in Bungoma County, Mr Odinga said the cracking down on those engaging in the chang'aa business is futile.
"Our officers spend a lot of time chasing and arresting people consuming chang'aa instead of going for the big fish who steal from the public coffers," Mr Odinga added.
However, he did not indicate how he plans to curb the numerous deaths related to the consumption of the brew.
For instance, on April 2010, nine people died after drinking the brew in Shauri Moyo estate in Nairobi.
That and similar incidents prompted chiefs to start leading raids on chang'aa dens.
More importantly, he said a Nasa government will uplift the welfare of public servants such as teachers and police officers.
"If elected, the Nasa government will pay teachers, nurses, and doctors well. We will not sack chiefs and the elders will get their monthly stipend on time.
"We will also increase the [salaries] of our police officers and ensure they are living in good conditions so that they stop interfering with those engaging in the chang'aa business," he said.
Accompanying him was Bungoma Senator Moses Wetang'ula, who said a Nasa administration will serve all Kenyans fairly.
"As Nasa we have transversed the entire country and we can assure you that all Kenyans are behind us. We will serve everyone equally regardless of their tribe or political affiliation," he said.
Also present were Bungoma gubernatorial aspirants Wycliff Wangamati (Ford Kenya) and Alfred Khamati (ODM).
Source link-nation.co.ke