Man held over 'links to attacker at DP's home'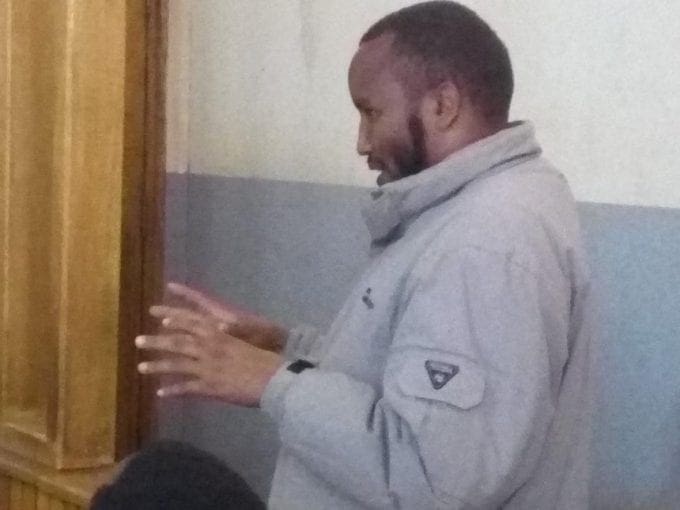 Anti-terror police have detained a suspect who allegedly harboured the intruder who was killed at Deputy President William Ruto's home.
Eldoret Chief Magistrate Charles Obulutsa allowed the police to detain Abdikadir Abdi for 20 days to facilitate investigations and establish his links to the deceased.
When Abdi appeared in court he denied any links to the intruder. Officers of the anti-terror unit said they needed time to take Abdi's fingerprints, mobile phone and other details to Nairobi for analysis.
"The court allowed the application to detain him at Kenya Railways Police Station in Eldoret for 20 days to allow for the investigations to be completed" said Obulutsa.
Abdi said he was beaten up and injured by members of the public at Jua Kali Market about 20km from the DP's home. He complained of back injuries.
"They pounced on me and beat me up, claiming that I knew him. I don't know him, and I have no links with him. The only thing I share with him is our Somali origin," said Abdi.
Obulutsa questioned Abdi of the alleged links, but he insisted that he was innocent, and operated his business at Jua Kali. Abdi protested when journalists took his photos, saying he does not want be exposed in the media.
But Obulutsa gave journalists the go-ahead to take photos, saying the issue was of great public concern following the attack at the DP's home.
Police have also collected fingerprints from the body of the intruder who was killed at the DP's home.
Eldoret West Police boss Samuel Mutunga said the samples would be taken to Nairobi for examination to establish his identity.
Mutunga said police have confirmed the man was a hawker at Jua Kali Market for several months.
"We are carrying investigations to establish his identity and motive of the attack at the DPs home," said Mutunga.
The intruder was a well-known hawker in the area and is claimed to have gone to demand money he was owed by a worker at Ruto's home.
He stabbed a GSU officer at the gate, snatched his gun and a key, which he used to access the armoury. There was an 18-hour stand off with Recce squad before the intruder was killed.
The intruder had shot dead one officer during the attack.
Security has been tightened at the DP's home, where extra GSU officers before the DP casts his vote on Election Day.
Source link-the-star.co.ke