VIDEO: Uhuru reveals secret with the late CS Joseph Nkaisserry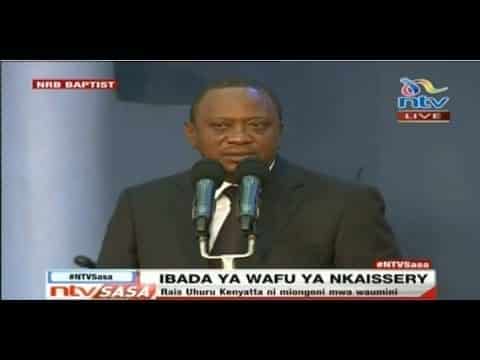 The late Joseph Nkaissery would probably have ended up as the head of the military had Uhuru Kenyatta succeeded in his first attempt at the Presidency, the President revealed last evening.
President Kenyatta told a rapt audience at the Nairobi Baptist Church that he met the late Cabinet Secretary when he was a very young man, as he was a friend to his cousin Captain Kung'u Muigai.
They would meet again in 2002, re-introduced to each other by President Daniel Moi as he sought to prepare the son of the founding President to become President, what was known as 'Project Uhuru'.
"He was very keen that I should get to know a few individuals who he thought it was important that I get to know well, because they are people that he said I should work with," said President Kenyatta.
The President said he was very surprised that the Major-General was going to quit the army and join politics.
"I was keener at that stage and said: 'Why are you quitting? Si tuliongea na Mzee Moi wewe utakuwa CDF wangu. Sasa wewe unaondoka (Didn't we talk with Mzee Moi and agree that you would be my CDF – Chief of Defence Forces).' He said, 'I want to join politics. I think I can play a greater role in politics,'" said President Kenyatta.
Mr Nkaissery, whose funeral is on Saturday at his home in Il Bisil, Kajiado County, would later become the Opposition's Shadow Minister for Defence, insisting in conversations that theirs was the government-in-waiting.
After the chaos of 2008, Mr Nkaissery and President Kenyatta ended up in the coalition government, as minister and assistant minister. In 2013, Mr Nkaissery was in the Opposition and President Kenyatta in power.
"When we formed government, the one person I felt we really truly missed was Gen Nkaissery," said President Kenyatta.
The General would come to President Kenyatta's rescue in December 2014 as problems arising from terrorism piled on.
DID NOT HESITATE
"I was forced to go back and say: 'You know, we discussed way back how we would do these things', and I called Gen Nkaissery and said: 'You know, let's forget these barriers. Why don't you just come and we continue what we started?' General did not hesitate even for five minutes.
His point was: 'I was waiting for you to call me so that we can get to work.' We started," said President Kenyatta.
Mr Nkaissery was eulogized as a committed, loyal and dedicated to Kenya.
This was among one of the anecdotes and tributes narrated at an emotional service for the late Cabinet Secretary credited with restoring a sense of security in the country, especially the capital, after multiple terror attacks since 2011.
Those who spoke at the service remembered him as a forthright politician who never compromised on his beliefs and principles.
To many, Mr Nkaissery was an honest person who stood for integrity.
"I met him when he quit the military to join politics. There is no doubt that the general would have wanted and done everything possible to have a peaceful election. Let us have a peaceful election in his honour," DP William Ruto said.
His son Andrew Kasaine, recounted how easy and soft their father was away from the usual public glare of a hard and toughened military person whose discipline was top-notch.
"I always enjoyed spending evenings with you and mummy, listening to you guys joking around like teenagers. Drinking port wine and eating chocolates. I find solace with absolute conviction that your legacy lives in all of us," he said.
Mr Nkaissery's widow, Hellen, said her husband did not die a coward and unnoticed.
"He was an exemplary person and showed excellence not just in Kenya, but the world over," Mrs Nkaissery said in her tribute read by a friend.
His daughters Soila and Beatrice eulogized their father as a kind hearted person from whom they learnt a lot.
Mr Nkaissery's long-time friend Cpt (Rtd) Kungu Muigai recalled how they were forced back into the military despite wanting to quit.
"He never drank more than three beers at any one time. Such was the discipline he had," he said.
Mr Joshua Ole Polong, a former secretary of the Public Service Commission told President Kenyatta that he would still be able to find a person of Mr Nkaissery's calibre to work in the government.
Mr Polong said the Maa community was at the president's "disposal" and would not fail him if they got another opportunity to work in the government.
"Make use of us and we shall not let you down," Mr Polong said.
-nation.co.ke