What Prompted Raila To Walk Out Of Biwott's Funeral Service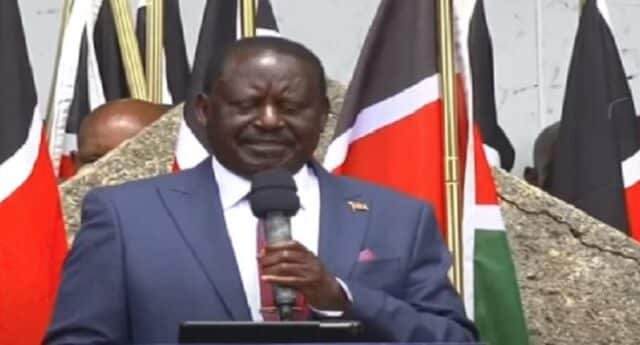 What really prompted NASA presidential candidate Raila Odinga to walk out of the funeral service of the late Cabinet minister Nicholas Biwott at the AIC Milimani in Nairobi on Tuesday? Trade Principal Secretary Chris Kiptoo, who was the master of ceremonies, had announced that Raila would be given a chance to address the mourners. However, it is said that the former Prime Minister was unhappy with how the protocol was observed. For instance, Foreign Affairs CS Amina Mohamed, who was the last to speak on behalf of the Jubilee government, acknowledged Biwott's family, the retired President of Tanzania Jakaya Kikwete then her Cabinet colleagues among others, by-passing Raila.
---
A Jubilee MP from Northeastern is the talk of the town. Word has it that the lawmaker, after defecting from ODM with some of his colleagues at State House, has never been seen on the ground campaigning despite the cordial welcome to Jubilee by President Uhuru Kenyatta. The MP tasked with campaigning for Uhuru's reelection in Wajir County is said to be always camping in Parliament alone. It is said the MP has even gone as far as deceiving top Jubilee campaign officials in Nairobi that he is on the ground daily. Some staff at MPs' lounge and hotel have been wondering why the legislator is not campaign like his colleagues fighting to defend their seats. However, our mole has told Corridors that the ground is hostile for the MP even before defecting to Jubilee and that his constituents dared him not to set foot there to campaign due to his poor record.
---
EVERY election period is associated with some sort of impunity, and this season is no better. The latitude at which law enforcers at the national and county governments have allowed violation of law with impunity is wanting. For example, in Nairobi, hawkers have streamed back to the CBD, garbage is all over and street children are now in the CBD. The City Inspectorate Department appears helpless to discharge its duties. On the other hand, matatus are picking and dropping passengers at illegal points even in the presence of police officers.
---
AN ODM top official is a man under siege. Reason? A group of agitated women are hunting for him to teach him a lesson of his life. It is said the official is also aware of the hunt and has become very cautious. The women have vowed to undress him over the ODM nomination list after discovering that he had a hand in shortchanging them in favour of his wife. The official is said to have aroused the women's anger to avenge when he authored a very long statement on social media defending the nomination of his wife to the county assembly. The women became angry when the official said he and his wife are simply targeted because they share a 'bed.' The have vowed to accomplish their mission before the election.
Source link-the-star.co.ke
What Prompted Raila To Walk Out Of Biwott's Funeral Service