Businessman reveals how he spent over Sh12 million to campaign for Uhuru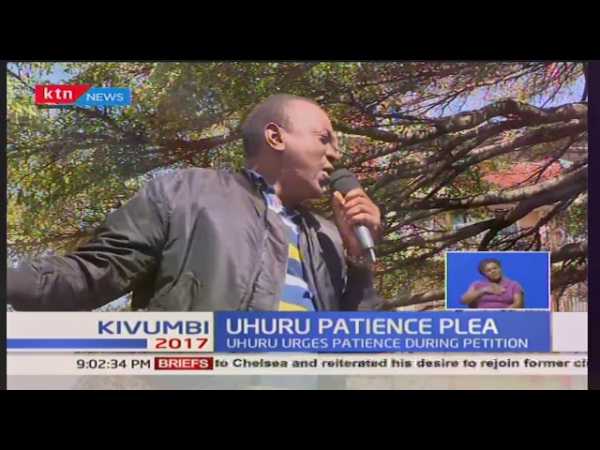 A Nyeri businessman who spent close to Sh13 milion to campaign for the re-election of President Uhuru Kenyatta and his Deputy William Ruto feels that his mission has been achieved.
Ephantus Thuku ''Adonai'' has no regrets for committing his fleet of matatus and his V6 Toyota Land Cruiser to campaign for his preferred presidential candidates.
ALSO READ: Kanu and Moi dynasty survive Jubilee wave
With Uhuru's victory in an election disputed by his rival Raila Odinga, Thuku says he can now go back to his business.
He forked out Sh12.8 million to fund his Team Adonai na Uhuruto caravan.
"My interests are secondary to the needs of this country, we need to have visionary leaders," he says.
From January Thuku held rallies in Makueni, Samburu, Kisii, Laikipia and even Kisumu and Kibera where, under the aegis of Team Adonai he called for peace and campaigned for Uhuru.
The businessman and his team of nine led a self-financed campaign across the country.
ALSO READ: Why we must build a better country for posterity
When team ran out of cash, Thuku contemplated contemplating selling one of his five matatus to achieve his goal.
Not even a Sh120,000-a-day offer from a Nyeri politician to Thuku to campaign for him could change the Uhuru campaigner's iron resolve. He didn't think twice before turning down the offer.
"My motivation was to ensure that Uhuru was elected and the country held together after August 8. The (NASA) petition is a small setback that we will overcome."
It might be difficult to wrap your head around the enormous personal and financial sacrifice Thuku made considering that he has never met either of the two Jubilee leaders.
"Sh12.8 million is just what I can defend with receipts and statements but the actual figure rises to Sh18 million."
A big chunk of the millions was used to fuel his five matatus and the Land-Cruiser. A significant fraction went to the stipends for his nine associates who made up the upper echelon of Team Adonai.
"I could give each one of them Sh1000 in wages because these are men and women who have families," he says.
ALSO READ: Kisumu man who sold land to campaign for Uhuru makes demands
Pastors too had to be paid as they were part of the caravan that went to as far as Kisumu to pray for peace.
One of his strategies was to reach out to the demographic aged above 70 that could not make it to the rallies. He simply visited them in their homes.
Thuku places the number of new voters that he helped register at 4,000 and was at hand on August 8 to ensure that each one of them voted.
"As Team Adonai we can confidently say that we ensured all the elderly vote in Nyeri. Some of these old people did not vote in 2013 because there was no one to ensure that they got out to vote," Adonai said.

-standardmedia.co.ke