Win An Air Ticket For A Mission Trip To Kenya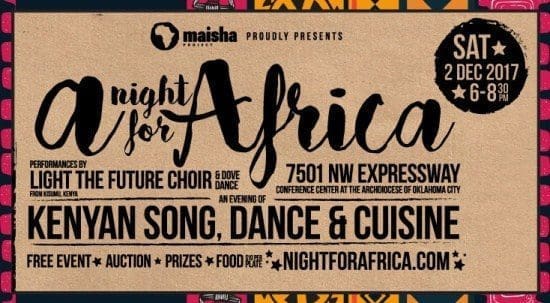 An evening of Kenyan cuisine, song & dance! Light the Future Choir is once again traveling from Kenya to Oklahoma City and we're holding a free concert for all to attend. They want to show you the beauty of their culture. To celebrate, hope and dream with you. To pray for a day when AIDS is eradicated, families have enough to eat and every child can attend school. To sing, dance and dine with you at A Night for Africa! With special guest performances by Dove Dance. Plates of authentic Kenyan food will be available for $10 or $50 for a family meal pass. Samosas and mandazi will also be available for sale and a silent auction will be held. All food and auction proceeds benefit Maisha Project.
A mission trip for 2 will be given away at A Night for Africa! Every $25 donation into Fund the Vision between Oct 1- Dec 1 (or in person at the event) will be entered to win. Donate at https://app.etapestry.com/onlineforms/TheMaishaProject_1/fundthevision.html.
The Maisha Project
Office: 405.445.3440
Direct: 405.702.7784
Email: [email protected]
www.maishaproject.org